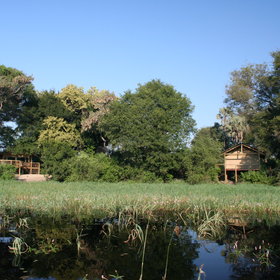 Seba Camp overlooks a lovely permanent lagoon.
Tented Chalet
Each of the large canvas tents is elevated, with viewing decks over the lagoon. The rooms are beautifully and individually furnished, and have wooden floors scattered with rugs.
The beds have large ceiling-height head-boards, which separate the sleeping area from the bathroom. They are very comfortable and furnished with crisp cotton bed-linen, fluffy pillows, duvets, and blankets. There are bedside tables and reading lamps built into the head board, and a ceiling fan over the beds.
Each room also has a small table, armchair, and luggage rack, along with plenty of hanging space and shelving.
The bathroom is to the rear of your tent – it is very smart with tiled slate flooring, sink and a large mirror over. A flushing loo is separated from the main bathroom area by a canvas wall and curtain, and the shower is built into the other corner of the bathroom, slightly sunken, and has a giant "rain-shower"-style shower head. Hot and cold water are on tap, and you are provided with dressing gowns, fluffy towels and various toiletries including shampoo, conditioner, soap, body lotion, ear-buds and cotton wool. Mosi repellant, "Doom" and mosi coils are also provided.
Family Chalet | Tented Chalet |