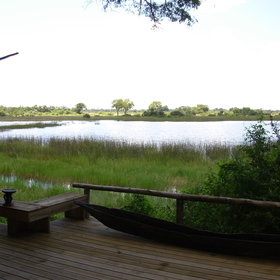 The rooms and main areas at Vumbura Plains all overlook the floodplains of the Okavango...
Luxury Tented Suite
The open-plan suites with high thatched ceilings are positively palatial. Decked out in light wood and natural hues, the bedroom, sunken lounge and bathroom flow almost seamlessly into one another, with only the odd billowy curtain to separate them. The result is a very restful space.

Inside, a mammoth bed is set up on a slightly raised platform under an equally immense mosquito net, and to the front is a sunken lounge area. The back of the room is kitted out with a writing desk with plug points suitable for a laptop, charging electrical equipment or the hairdryer, and ample storage space. There is a minibar fridge as well as tea- and coffee-making facilities. All the rooms have a small safe, and umbrellas, dressing gowns, mosquito repellent, insect spray and mosquito coils are also provided.

Floor-to-ceiling mosquito-gauze panels frame the suite on three sides, maximising the views of the surrounding bush – but making the rooms particularly cold in winter. To help with this, some of the panels are now lined with a clear plastic to better windproof them, without detracting from the incredible setting.

Fully one half of the suite is essentially the 'bathroom' area. The shower is open-plan, although there are floor-to-ceiling curtains which can be pulled around the area on one or more sides for privacy. There is also a large outside shower which is under the stars. A separate flushing toilet, twin hand washbasins and a vanity unit complete the picture, complemented by a good selection of toiletries (by Charlotte Rhys when we visited in May 2011).


Outside each suite is a large private decked area to, complete with a plunge pool, sunloungers, and a covered portion with a sofa and small table for occasions when you might prefer to 'dine in'.