Lodges & safari camps in Okavango Panhandle
Sort by:
Name


|
Traveller's rating


|
No. of reviews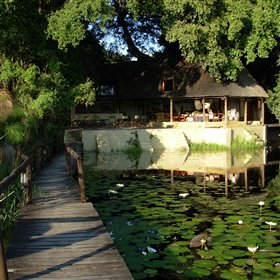 Nxamaseri Lodge

Nxamaseri Island Lodge stands on an island in the Okavango Panhandle, north of the Delta; about 19km north of Sepupa, or over ...More about Nxamaseri Lodge
Excellent lodge. I had a great time. The guide (Adam) was incredible. Would recommend anyone going on safari in Botswana to go to the Tsodilo Hills. Also great to get ... reviews...
Drotsky's Cabins
Drotsky's Cabins stands on the banks of the Okavango, overlooking the wide river, dotted with floating papyrus reeds. It has comfortable bungalows and an authentic warts-and-all atmosphere.More about Drotsky's Cabins
Tsodilo Hills
For adventurers, the magical Tsodilo Hills are best reached on a mobile safari. These famous landmarks, rising out of the undulating Kalahari, are one of the great sites for Bushman rock art. Laurens van der Post famously described them as a 'Louvre in the desert' in his book, The Lost World of ...More about Tsodilo Hills