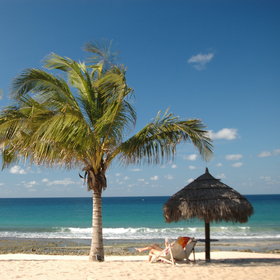 The Quirimbas Archipelago consists of 12 major and 20 smaller islands.
Macaloe Island: Our full report
Macaloe is only 15 minutes' boat-ride from the mainland at Paqueve but its 400 hectare harbour is a unique ecosystem of its own.

Historically, Macaloe's 18th century fort was built to protect its residents from the ferocious people of the coast. It fell out of use in the 19th century after the islanders and the mainlanders intermarried and made peace with each other. The fort and its unique fresh water cistern may well become an integral part of the lodge.

Macaloe currently remains undeveloped – but its location just opposite the Lazarus Bank – a coral outcrop that rises from the deep of the Mozambique Channel has long been known the excellent sport-fishing found around it. It's also a very challenging scuba-diving location, for highly experienced divers only and so we doubt it will remain undeveloped for long.

Call the Expert Africa team for the latest news on Macaloe Island, and the Quirimbas Archipelago in general.
Geographics
Location: Quirimbas Archipelago, Mozambique
Infrastructure