Lodges & safari camps in Bushmanland
Sort by:
Name


|
Traveller's rating


|
No. of reviews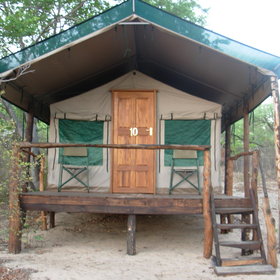 Nhoma Camp

Nhoma Camp is a small tented camp in Bushmanland that takes its name from the nearby Bushman village of //Nhoq'ma. The camp is ...More about Nhoma Camp
I left Okonjima late and had to search for a SD card for my camera. I had equipment problems at Okonjima which put me on the road to Nhoma at night which is not a good idea... reviews...
Tsumkwe Country Lodge

Tsumkwe Country Lodge is situated on the edge of the tiny settlement of Tsumkwe, about 226km from the tarred road north of Grootfo...More about Tsumkwe Country Lodge
We wanted to have 3 nights at Nhoma, but could only get 2 nights - so we stayed here as it broke the journey, and meant we could get to Nhama in time for the walk with the ... reviews...
Khaudom fly-camp
If you'd like to see more of Khaudom National Park, then we can arrange a night at a Khaudom fly-camp for you. Here you'll sleep out in a small tent, cooking on an open fire with an expert local guide. Often the sites are chosen to be beside a waterhole, and our travellers have frequently returned ...More about Khaudom fly-camp