Useful links featuring Okahirongo Elephant Lodge
Useful links...
We want you to understand more about Okahirongo Elephant Lodge. We're not shy to direct you to their own website as we're confident that a trip there with us will cost you the same or less than booking it any other way, even directly. So follow the links below for more information.
Okahirongo Elephant Lodge Homepage
Click here for more information on Okahirongo Elephant Lodge.
Okahirongo Ele. Lodge is often combined with:
Sort by:
Name


|
% of trips


|
Traveller's rating


Olive Exclusive
|
200%
|

The Olive Exclusive is the boutique sister hotel to the adjacent Olive Grove Guesthouse. Seven luxurious suites overlook an olive grove in the suburb of Klein Windhoek, five minutes' drive from Windhoek's city centre. Equally intimate and contemporary is the on-site restaurant, The Olive...
Read more about Olive Exclusive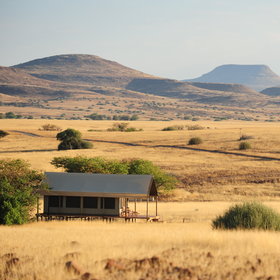 Desert Rhino Camp
|
100%
|


Remote, exclusive and specialised, Desert Rhino Camp takes a maximum of 16 guests – and for many years was known as 'Palmwag Rhino Camp'. The camp is a joint venture between Namibia's Save the Rhino Trust and Wilderness Safaris and has been running now for over 20 years...
Read more about Desert Rhino Camp
Etendeka Mountain Camp
|
100%
|

Etendeka Mountain Camp is a small, rustic camp, located in a private 500km² concession area (effectively a private reserve) in the foothills of the Grootberg massif, which stands in stunning scenery amidst the ancient Etendeka lava flows of northern Damaraland. Here the ...
Read more about Etendeka Camp
Hoanib Skeleton Coast Camp
|
100%
Hoanib Skeleton Coast Camp is an exciting new camp, due to open on the 1st August 2014, in the Hoanib River Valley, in northern Damaraland. It is surrounded by gravel plains, mountains and large yellow sand dunes. Although it's not actually on the Skeleton Coast, the camp ...
Read more about Hoanib Camp