Useful links featuring Epacha Game Lodge

Download a PDF...
To read what we say in our brochure, click on the link to download the brochure section including Epacha Game Lodge. To save a copy onto your computer, right-click on the link and select 'Save Target as...'.
Useful links...
We want you to understand more about Epacha Game Lodge. We're not shy to direct you to their own website as we're confident that a trip there with us will cost you the same or less than booking it any other way, even directly. So follow the links below for more information.
Epacha Game Lodge
For some more information check the basic website of Leading Lodges.
Epacha Game Lodge is often combined with:
Sort by:
Name


|
% of trips


|
Traveller's rating


Okonjima Plains Camp
|
100%
|


Just south of Otjiwarongo, Okonjima Plains Camp (formerly Okonjima Main Camp) was the original Hanssen family farmhouse that was converted into the first lodge on this farmland. Since then, they have opened several sister-camps on their same large ranch – Okonjima Bush ...
Read more about Okonjima Plains Camp
Halali Camp
|
50%
|


Strategically located in the middle of Etosha National Park, Halali is one of the three government-run camps inside the park. It stands beside one of the very few hills in Etosha, and is the smallest and quietest of these restcamps – although it's much, much larger than ...
Read more about Halali Camp
Namutoni Camp
|
50%
|


Namutoni Camp (formerly known as Namutoni Restcamp) stands at the eastern side of Etosha National Park, close to von Lindequist Gate and the picturesque Fisher's Pan. Here, great concentrations of water birds and breeding colonies of flamingos are frequently seen during the rainy season...
Read more about Namutoni Camp
Ongava Lodge
|
50%
|


Perched on the top of a small kopje (rocky outcrop), overlooking the plains below, Ongava Lodge was the original 'luxury game lodge' near Etosha. It stands on the private Ongava Game Reserve, which borders the southern side of Etosha National Park near Andersson's Gate, ...
Read more about Ongava Lodge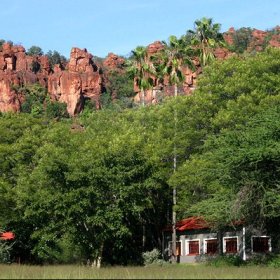 Waterberg Wilderness Lodge
|
50%
|


The excellent Waterberg Wilderness Lodge is surrounded by the cliffs of the Waterberg Plateau. It began as a traditional German guestfarm, but it is greatly enhanced by the warmth and humour of its owner-managers, Joachim and Caroline Rust. They and their team have renovated ...
Read more about Waterberg Wild'ss Lodge
Brigadoon
|
50%
|


If you enjoy a bit of seclusion, then the tiny Brigadoon, is set in the well-established gardens of the owner's house in a quiet residential area of Swakopmund, not far from the beach and within a couple of minutes' walk of the town centre. Brigadoon is a boutique bed ...
Read more about Brigadoon
The Stiltz
|
50%
|

Right on the edge of Swakopmund, The Stiltz overlooks the mouth of the Swakop River and has spectacular views over the dunes or the Atlantic Ocean. The combination of these views and a quirky design make it a unique place to stay in Swakopmund. The Stiltz has nine high-quality ...
Read more about The Stiltz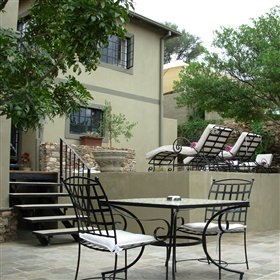 Olive Grove
|
50%
|

The Olive Grove is a stylish guesthouse in Windhoek's Klein Windhoek suburb. Taking its name from the neighbouring grove of olive trees, the guesthouse is located in a renovated old house. It has been open since early 2004 when it quickly grew in popularity as a favourite ...
Read more about Olive Grove
Kulala Desert Lodge
|
50%
|


Situated on the 210km² private Kulala Wilderness Reserve south of Sesriem, Kulala Desert Lodge is the only lodge in the Sossusvlei area that offers such a close and spectacular view over the Namib-Naukluft Dune Sea. In fact, the lodge's defining feature and main reason ...
Read more about Kulala Desert Lodge
Doro Nawas
|
50%
|

Doro Nawas Camp is situated on a rugged, rocky hill close to Twyfelfontein, on the edge of the dry Aba Huab River. It has awesome views across the plains of the mountains and sandstone cliffs of Twyfelfontein. The camp is a joint venture between Wilderness Safaris and ...
Read more about Doro Nawas
Etendeka Mountain Camp
|
50%
|

Etendeka Mountain Camp is a small, fairly rustic camp, located in a private 500km² concession area (effectively a private reserve) in the foothills of the Grootberg massif, which stands in stunning scenery amidst the ancient Etendeka lava flows of northern Damaraland. Here ...
Read more about Etendeka Camp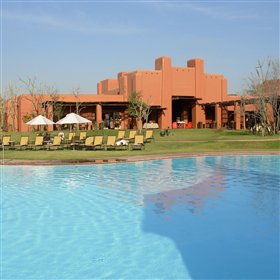 Zambezi Sun
|
50%
|


Opened in 2001, the 3-star Zambezi Sun is a sprawling resort hotel with an informal atmosphere, and a colourful, fun design throughout. The closest hotel to the Victoria Falls, it's really all about the location as you're just a few minutes walk from one of the Natural ...
Read more about Zambezi Sun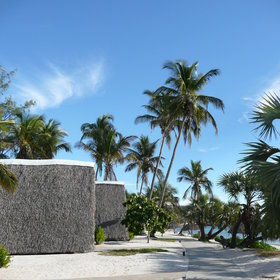 Bazaruto Lodge
|
50%
|


Bazaruto Lodge is a relatively large, resort-style lodge with simple chalets at the far north end of Bazaruto Island. Owned by the Portuguese Pestana group, it's been here for many years, and has a distinctly Mediterranean air and a laid-back feel. There are 40 chalets ...
Read more about Bazaruto Lodge