Useful links featuring Le Mirage Lodge

Download a PDF...
To read what we say in our brochure, click on the link to download the brochure section including Le Mirage Lodge. To save a copy onto your computer, right-click on the link and select 'Save Target as...'.
Useful links...
We want you to understand more about Le Mirage Lodge. We're not shy to direct you to their own website as we're confident that a trip there with us will cost you the same or less than booking it any other way, even directly. So follow the links below for more information.
Le Mirage Lodge
Find out some more about Le Mirage on the leadinglodges.com homepage about this lodge.
Places which are most often combined with the Le Mirage Lodge
Sort by:
Name


|
% of trips


|
Traveller's rating


Ai-Ais Hot Springs Spa
|
100%
|


Ai-Ais Hot Springs Spa lies at the Southern end of Fish River Canyon, in a scenic area beside natural sulphurous hot springs, from which it got its name, as Ai-Ais means 'burning water' in the Nama language. It ...
Read more about Ai-Ais Hot Springs Spa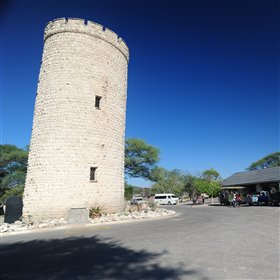 Okaukuejo Camp
|
100%
|


Okaukuejo Camp (formerly known as Okakwiju), meaning a woman who bore a child each year, stands near the public southern entrance of Etosha National Park, at the western end of the famous Etosha Pan. It officially ...
Read more about Okaukuejo Camp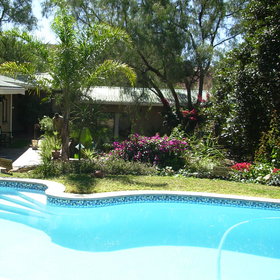 Haus Sonneneck
|
100%
|


Located in the suburb of Eros Park, Haus Sonneneck is rapidly gaining a reputation as one of Windhoek's best pensions. It is set in beautiful lush gardens, which are filled with blooming flowers, trickling water ...
Read more about Haus Sonneneck
Bagatelle Kalahari Game Ranch
|
100%
|


Bagatelle Kalahari Game Ranch stands on the east side of the D1268, about 25km north of the tarred C20 road, between Hardap and Stampriet. This owner-run tranquil lodge in the red Kalahari dunes was initially a ...
Read more about Bagatelle Game Ranch
Mushara Lodge
|
100%
|

Just 8km from the eastern gate of Etosha National Park, the substantial Mushara Lodge is designed for travellers who want to visit Etosha, whilst saying in a more comfortable place than the restcamps within the park...
Read more about Mushara Lodge
Central Guest House
|
100%
|


Just a five-minute walk from the centre of Swakopmund, in a quiet area, the relatively new Central Guest House is a good base for those travelling around Namibia, and perfect for self-drivers. With welcoming and ...
Read more about Central Guest House
Eagle's Nest
|
100%
|


The Eagle's Nest stands on the Klein Aus Vista reserve, 2km west of the small town of Aus. It's in a semi-desert area of Southern Namibia and straddles the interface between the mountains and the desert plain - ...
Read more about Eagle's Nest
Okonjima Main Camp
|
100%
|


STOP PRESS! Okonjima Main camp is closed for renovations until 28th March 2013. Just south of Otjiwarongo, Okonjima Main Camp was the original Hanssen family farmhouse that was converted into the first lodge on this farmland...
Read more about Okonjima Main Camp