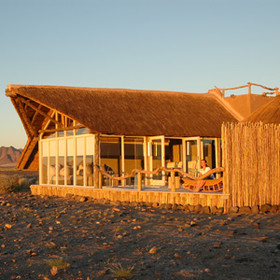 Stylishly and modern, Little Kulala has huge glass-sided rooms...
Chalet
Little Kulala has nine double chalets, plus one 'family chalet', which has a double room and a twin room linked by a deck. All of these chalets are raised on white-washed wooden decks; a bamboo stick fence and gate bounds each one, making them very private.

Inside each chalet's bedroom, you find a double bed in the middle of the large room, raised on a small wooden platform. From its high, cement bed-head, small pebbles cascading down strings, like a waterfall. Directly behind the bed-head is a tea-station, with a filter coffee maker, your own water filter and a fully-stocked mini-bar/fridge.

In front of the bed is the large lounge, with comfortable pebble-shaped cushions, a pebble-shaped coffee-table and a few woven foot stools, all on a beautiful sand-textured rug. The colours are all pale - earth tones in harmony with the desert outside. Two sides of the room are made almost entirely of glass, giving you panoramic views of the desert from the comfort of your air-conditioned bedroom.

Behind the wall-like bed-head, the bathroom is a separate room with a big marble shower, complete with 'his and hers' showers. Twin wash-basins, electric shaver-points, and a stock of complementary toiletries are overlooked by a large wall-sized mirror, beneath which there's a basket of additional towels and even more toiletries. The flushing toilet is behind another wall, in its own small room – and yet another door from the bathroom leads outside, to a private outdoor shower.

To one side of the front of the chalet is a large private deck. This adjoins a thatched 'sala' (a small, open-air lounging area) with comfortable cushions, a table with chairs for dining outdoors, a couple of sun loungers and your very own private plunge pool!

To the side of your chalet, steps lead upstairs onto your private terrace, which is built above the bathroom. You can opt, if you wish, to sleep out here, under the stars – and bedrolls will be unfurled for you, complete with hot-water bottles in the colder months. Then, should it get too cold for you, you can always retreat to your bed in the middle of the night – like we did last time we stayed here!

Little Kulala's large rooms are tastefully furnished with minimal fuss; it's original and interesting in design, with wonderful textures – all very pleasing to the eye, and comfortable to stay in.