Useful links featuring Solitaire Country Lodge
Useful links...
We want you to understand more about Solitaire Country Lodge. We're not shy to direct you to their own website as we're confident that a trip there with us will cost you the same or less than booking it any other way, even directly. So follow the links below for more information.
Solitaire Country Lodge's homepage
Solitaire Country Lodge's page on the Namibia Country Lodges website has a description and a few photos of the lodge.
Solitaire Country Lodge is often combined with:
Sort by:
Name


|
% of trips


|
Traveller's rating


Auberge Omulonga
|
200%
|

STOP PRESS Auberge Omulonga will be shutting permanently from the 30th November 2014. Auberge Omulonga was recommended to us by one of our regular travelers but none of the team at Expert Africa has visited it yet. Here's what we know about it so far… Set up by French ...
Read more about Auberge Omulonga
Zebra River Lodge
|
100%
|


Set in its own canyon, Zebra River Lodge is a small, comfortable, former sheep farm with a friendly welcome. It is run by Geraldine Fourie who took over the lodge from its previous owners in 2013. Zebra River Lodge's 12 rooms are made of cooling stone. As well as the standard ...
Read more about Zebra River Lodge
Khorab Lodge
|
100%
|


Situated just 4 km south of Otavi Khorab Lodge is a beautiful place to stop for a night and take in the wonderful location of the Central Highlands on your way to or from the key destinations like Etosha National Park or the Caprivi. The highlight of this lodge is certainly ...
Read more about Khorab Lodge
Halali Camp
|
100%
|


Strategically located in the middle of Etosha National Park, Halali is one of the three government-run camps inside the park. It stands beside one of the very few hills in Etosha, and is the smallest and quietest of these restcamps – although it's much, much larger than ...
Read more about Halali Camp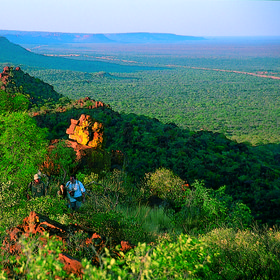 Waterberg Plateau Lodge
|
100%
|

Standing on the top of the Waterberg Plateau, Waterberg Plateau Lodge is a small satellite lodge linked closely with its sister lodge, Waterberg Wilderness Lodge. The final few kilometres of the drive to Waterberg Plateau Lodge is narrow and steep, but well paved – and ...
Read more about Waterberg Plateau Lodge
Namutoni Camp
|
100%
|


Namutoni Camp (formerly known as Namutoni Restcamp) stands at the eastern side of Etosha National Park, close to von Lindequist Gate and the picturesque Fisher's Pan. Here, great concentrations of water birds and breeding colonies of flamingos are frequently seen during the rainy season...
Read more about Namutoni Camp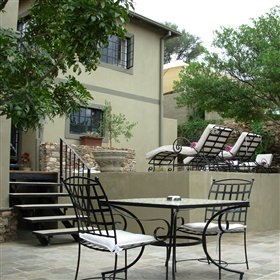 Olive Grove
|
100%
|

The Olive Grove is a stylish guesthouse in Windhoek's Klein Windhoek suburb. Taking its name from the neighbouring grove of olive trees, the guesthouse is located in a renovated old house. It was opened in early 2004, and has become a favourite place to stay in Namibia's capital city...
Read more about Olive Grove
Okonjima Bush Camp
|
100%
|

The rolling hills and grassy plains of the Okonjima Nature Reserve, just south of Otjiwarongo, are home to Okonjima Bush Camp. The 220km2 resesrve is also the base for the AfriCat Foundation, a non-profit organisation set up to conserve and protect Namibia's threatened ...
Read more about Okonjima Bush Camp