Hoanib Skeleton Coast Camp
Hoanib Skeleton Coast Camp is an exciting new camp being planned in the Hoanib River Valley, in northern Damaraland. It is surrounded by gravel plains, mountains and large yellow sand dunes. Although it's not actually on the Skeleton Coast, the camp is situated in a private concession (similar to a reserve) area which straddles the Palmwag area and Skeleton Coast National Park. Consequently this camp is being viewed by name as a successor to the Skeleton Coast Camp, which is now closed.
Our view of Hoanib Skeleton Coast Camp
This camp won't be for the budget conscious. But what you will get is superb experience in a very remote location. Tracking desert-adapted elephant and spending time in the Skeleton Coast National Park will be amongst the highlights here.

Watch this space for further information.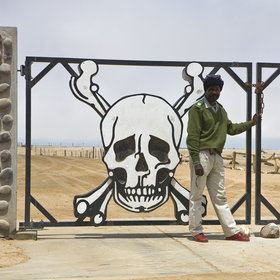 Skeleton Coast, so named from the bleached bones of stranded whales, sailors and ships.