Useful links featuring Hotel Zum Kaiser
Useful links...
We want you to understand more about Hotel Zum Kaiser. We're not shy to direct you to their own website as we're confident that a trip there with us will cost you the same or less than booking it any other way, even directly. So follow the links below for more information.
This hotel's website
Click to access the Swakopmund Boutique Hotel's own colourful website with further information and photos.
Zum Kaiser Hotel is often combined with:
Sort by:
Name


|
% of trips


|
Traveller's rating


Monte Bello Guesthouse
|
200%
|

None of the team at Expert Africa has visited Monte Bello Guesthouse, but this is what we know about it... Monte Bello Guesthouse is located in the Eros area of Windhoek. New for 2011, it offers 9 rooms, all in a modern style and spotlessly clean and comfortable. The ...
Read more about Monte Bello Guesthouse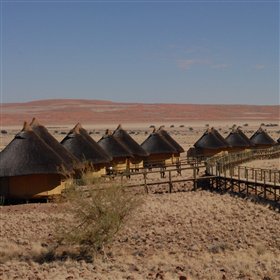 Sossus Dune Lodge
|
100%
|


Sossus Dune Lodge was the first upmarket lodge to be owned and built by the Namibian government's parastatal company NWR (Namibia Wildlife Resorts). The lodge is unique because it is the first, and currently only, lodge inside the Namib-Naukluft National Park, allowing ...
Read more about Sossus Dune Lodge
Wolwedans Dune Camp
|
100%
|

Wolwedans Dune Camp is the simpler and more economical sister camp to the lovely Wolwedans Dune Lodge and the luxurious Boulders Camp. A favourite of ours, Dune Camp sits on the edge of a 250m-high dune on the 2,100km2 NamibRand Nature Reserve, within the Namib Desert. Wolwedans ...
Read more about Wolwedans Dune Camp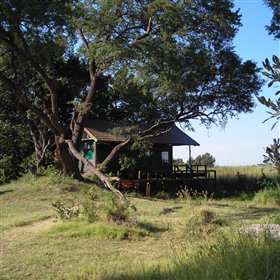 Shinde Camp
|
100%
|


Shinde, meaning 'tree squirrel' in Setswana, is situated on the edge of an area of deep water and lagoons in the heart of the Okavango Delta, and is notable for its lushness and first-rate game. It's a well-established camp in a private reserve just to the north of the ...
Read more about Shinde Camp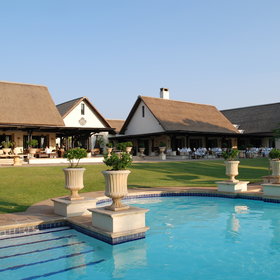 Royal Livingstone Hotel
|
100%
|

Situated in close proximity to the Victoria Falls, the five-star Royal Livingstone Hotel has 173 luxurious and well-appointed rooms, complete with satellite TV. They are relatively modest in size, but by contrast, the hotel's lounge and dining room are grand and airy - ...
Read more about Royal Livingstone Hotel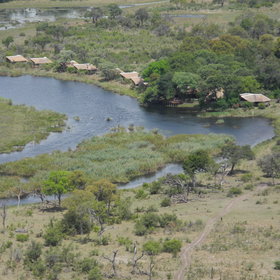 Lagoon Camp
|
100%
|


The Kwando Concession is currently the largest private wildlife reserve in Botswana, covering 2,320km² of unfenced wilderness in the far north of the country. Only two camps share this vast reserve, Lagoon Camp to the north and its sister camp, Lebala, to the south. Most ...
Read more about Lagoon Camp
Lebala Camp
|
100%
|

In the extreme north of Botswana, Lebala Camp stands in the immense private Kwando Reserve, a vast and largely dry wildlife area with a deserved reputation as a top African safari camp for superb big game – and especially good predator sightings. There are just two camps ...
Read more about Lebala Camp
Kanana
|
100%
|


Situated in the heart of Botswana's Okavango Delta, adjacent to Moremi Game Reserve, Kanana Camp nestles among towering jackalberry (ebony) trees, knobthorn acacias and sausage trees on the edge of a permanent stretch of channel. Kanana's environment is a mix of forests ...
Read more about Kanana