Useful links featuring Pelican Point Lodge

Useful links...
We want you to understand more about Pelican Point Lodge. We're not shy to direct you to their own website as we're confident that a trip there with us will cost you the same or less than booking it any other way, even directly. So follow the links below for more information.
Pelican Point Lodge - homepage
Click here to see the lodge's own website.
Pelican Point Lodge is often combined with:
Sort by:
Name


|
% of trips


|
Traveller's rating


Heinitzburg Hotel
|
100%
|

Affording superb views of Windhoek from its location on top of a hill, the Heinitzburg Hotel is a small converted castle that was originally built at the turn of the 19th century. Completely refurbished in June 2009, when the restaurant was also enlarged, the hotel continues ...
Read more about Heinitzburg Hotel
Twyfelfontein Country Lodge
|
100%
|


Just 4km from the historic UNESCO World Heritage Twfelfontein rock engravings is Twyfelfontein Country Lodge, built in an attractive spot at the bottom of a hill. The lodge's design has taken inspiration from the colours and shapes in the local landscape; this way, the ...
Read more about Twyfelfontein C'try Lod.
Wolwedans Dunes Lodge
|
100%
|


Wolwedans Dunes Lodge is situated on the private NamibRand Nature Reserve, a vast area of 2,100km2 located in the Namib Desert in southern Namibia. Built along the top of a dune plateau and overlooking the desert in all directions, this is the most substantial of the Wolwedans Collection...
Read more about Wolwedans Dunes Lodge
Little Ongava
|
100%
|

Little Ongava is the super-luxurious, exclusive sibling of Ongava Lodge, within the same private 300km2 Ongava Game Reserve on the southern boundary of Etosha National Park. Set on the crest of a hill, the lodge overlooks the reserve, which boasts a wide range of wildlife ...
Read more about Little Ongava
Olive Exclusive
|
100%
|

Overlooking a neighbouring olive grove, The Olive Exclusive is a small boutique hotel situated in the quiet suburb of Klein Windhoek, only five minutes' drive from Windhoek's city centre. The hotel boasts just seven individual, high-end suites, and the equally intimate ...
Read more about Olive Exclusive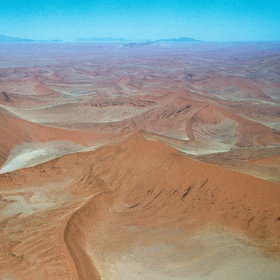 Schoeman's Skeleton Coast Safaris
|
100%
|


Skeleton Coast Safaris is a small, family-run operation that has organized trips here for 20 years. They take up to eight passengers, using light aircraft to hop between remote beaches and private airstrips. Each trip is usually escorted by one of the Schoeman family, ...
Read more about Skeleton Coast Safaris