Useful links featuring Daan Viljoen Resort
Useful links...
We want you to understand more about Daan Viljoen Resort. We're not shy to direct you to their own website as we're confident that a trip there with us will cost you the same or less than booking it any other way, even directly. So follow the links below for more information.
Daan Viljoen - Namibia Wildlife Resorts homepage
Click here for more information on Daan Viljoen Resort.
Places which are most often combined with the Daan Viljoen Resort
Sort by:
Name


|
% of trips


|
Traveller's rating


Halali Camp
|
100%
|


Strategically located in the middle of Etosha National Park, Halali is one of the three government-run camps inside the park. The others are Okaukuejo and Namutoni. Halali stands beside one of the very few hills ...
Read more about Halali Camp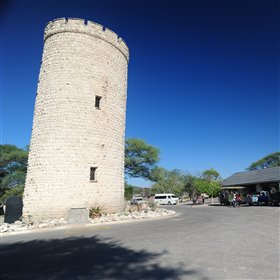 Okaukuejo Camp
|
100%
|


Okaukuejo Camp (formerly known as Okakwiju), meaning a woman who bore a child each year, stands near the public southern entrance of Etosha National Park, at the western end of the famous Etosha Pan. It officially ...
Read more about Okaukuejo Camp
Khorab Lodge
|
50%
|


Situated just 4 km south of Otavi Khorab Lodge is a beautiful place to stop for a night and take in the wonderful location of the Central Highlands on your way to or from the key destinations like Etosha National ...
Read more about Khorab Lodge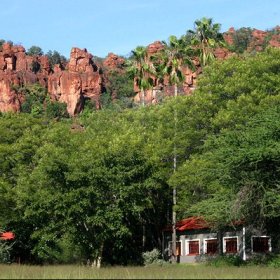 Waterberg Wilderness Lodge
|
50%
|


The excellent Waterberg Wilderness Lodge is surrounded by the cliffs of the Waterberg Plateau. It began as a traditional German guestfarm, but it is greatly enhanced by the warmth and humour of its owner-managers, ...
Read more about Waterberg Wild'ss Lodge
Namutoni Camp
|
50%
|


Namutoni Camp (formerly known as Namutoni Restcamp) stands at the eastern side of Etosha National Park, close to von Lindequist Gate and the picturesque Fisher's Pan. Here, great concentrations of water birds and ...
Read more about Namutoni Camp
Lianshulu Lodge
|
50%
|


Lianshulu Lodge is an old favourite, within the lush Mudumu National Park. Guests stay in comfortable wood-and-thatch bungalows, built, like the rest of the lodge, by local craftspeople using natural materials...
Read more about Lianshulu Lodge
Ndhovu Safari Lodge
|
50%
|


Ndhovu Safari Lodge stands on the east bank of the Kavango River, between Divundu on the trans-Caprivi Highway and the Botswana border at Mohembo. It's just 2km north of the Mahango Natinal Park – so one of the ...
Read more about Ndhovu Safari Lodge
Desert Horse Inn
|
50%
|


The owner-run Desert Horse Inn stands on the Klein Aus Vista reserve, which is reminiscent of a 'Western' movie set. It's about 1,400m above sea level, in what is probably the coldest place in Namibia - a totally ...
Read more about Desert Horse Inn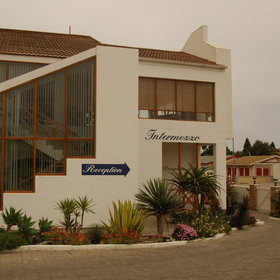 Intermezzo Guesthouse
|
50%
|

Intermezzo Guesthouse is a small bed and breakfast located in a quiet residential area of Swakopmund, about 25 minutes walk from the town centre, or a short drive. The 9 rooms are made up of seven twin or double ...
Read more about Intermezzo
Kalahari Anib Lodge
|
50%
|


Kalahari Anib Lodge is situated 24km east of Hardap, along the C20 towards Stampriet, and is a friendly oasis in the heart of the southern Kalahari. It is a relatively large lodge with 55 rooms, but makes a lovely ...
Read more about Kalahari Anib Lodge
Zebra River Lodge
|
50%
|


Set in its own canyon, Zebra River Lodge is a small, comfortable, former sheep farm with a friendly welcome. It is run by Elke and Peter Young who took over the lodge from its previous owners in August 2009. Zebra ...
Read more about Zebra River Lodge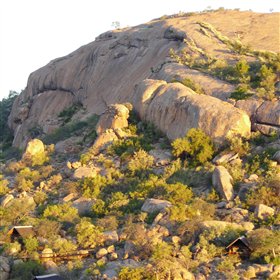 Erongo Wilderness Lodge
|
50%
|


Just west of Omaruru, Erongo Wilderness Lodge perches amidst the rugged granite kopjies of the Erongo Mountains – within the area of an ancient volcanic crater. The lodge is a founder member of the 2,000km² Erongo ...
Read more about Erongo Wilderness
Okonjima Main Camp
|
50%
|


STOP PRESS! Okonjima Main camp is closed for renovations until 28th March 2013. Just south of Otjiwarongo, Okonjima Main Camp was the original Hanssen family farmhouse that was converted into the first lodge on this farmland...
Read more about Okonjima Main Camp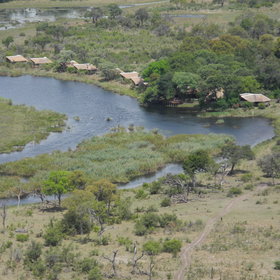 Lagoon Camp
|
50%
|


The Kwando Concession is currently the largest private wildlife reserve in Botswana, covering 2,320km² of unfenced wilderness in the far north of the country. Only two camps share this vast reserve, Lagoon Camp ...
Read more about Lagoon Camp