Useful links featuring Akagera Game Lodge

Download a PDF...
To read what we say in our brochure, click on the link to download the brochure section including Akagera Game Lodge. To save a copy onto your computer, right-click on the link and select 'Save Target as...'.
Places which are most often combined with the Akagera Game Lodge
Sort by:
Name


|
% of trips


|
Traveller's rating


Mountain Gorillas Nest
|
83%
|


For an acceptable hotel, that's also near to the start of the gorilla treks, consider the Gorilla's Nest. As recently as five or six years ago this was the very best hotel in this area, and it has grown steadily in recent years...
Read more about Mountain Gorillas Nest
ORTPN Resthouse
|
50%
|


In the southwest of Rwanda, Nyungwe Forest National Park is an enormous tropical forest with a high canopy. Covering about 970km², Nyungwe is the largest swathe of montane forest left in East or Central Africa, ...
Read more about ORTPN Resthouse
Umubano Kigali Hotel
|
33%
|


Novotel Kigali Umubano was taken over a couple of years ago and is now known as the Umubano Kigali Hotel. It is situated in the embassy district of Kigali, about 5km from the centre of town and is a quite base ...
Read more about Umubano Kigali
Bethanie Guesthouse
|
33%
|

Bethanie Guesthouse is situated in the middle of Rwanda's lakeshore, close to the town of Kibuye, which is probably the prettiest of the three towns on the shores of Lake Kivu. The Béthanie Guest House has a ...
Read more about Bethanie Guesthouse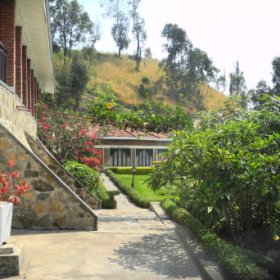 Moriah Hill Resort
|
17%
|

The Moriah Hill Resort is a new, 4-star hotel that opened in August 2007 in Kibuye. Situated on the shore of Lake Kivu it has a lovely setting with views across the lake to the many small islands. Moriah Hill ...
Read more about Moriah Hill Resort
Hotel des Mille Collines
|
17%
|

Hotel des Mille Collines is set in Rwanda's capital city: Kigali. It is a four-star international hotel with 112 rooms, set in large gardens in downtown Kigali. The hotel gained much of its notoriety from its role ...
Read more about Hotel des Mille Collines
Peace Guesthouse
|
17%
|

Peace Guesthouse is situated in the far south-west coner of Rwanda, on the shores of Lake Kivu near the port of Cyangugu. None of the Expert Africa team have visited this hotel yet, however here is what we know about it so far...
Read more about Peace Guesthouse
Sabyinyo Silverback Lodge
|
17%
|


Sabyino Silverback Lodge is the sister-camp to the well-known Governors' Camp in Kenya's Maasai Mara, although it is technically owned by the community trust SACOLA. It is the most luxurious lodge in the area, ...
Read more about Sabyinyo Silverback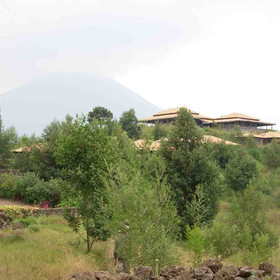 Virunga Lodge
|
17%
|


About an hour's drive from the park headquarters, Virunga Lodge is currently one the area's top lodges and certainly has one of the most spectacular locations of any camp in Africa – high on a ridge overlooking ...
Read more about Virunga Lodge
Royal Palm Hotel
|
17%
|


Conveniently close to the airport, in the centre of town, the Moevenpick Royal Palm Hotel is perhaps the city's best large hotel: it's very professional and ideal for short overnight stops. The Royal palm has ...
Read more about Royal Palm Hotel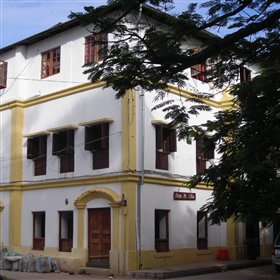 Beyt al Chai
|
17%
|


STOP PRESS Beyt al Chai will be closing its doors on 1st April 2013, when it is being taken over and refurbished by new owners. We await news of its reopening date. The Beyt al Chai is a small boutique hotel ...
Read more about Beyt al Chai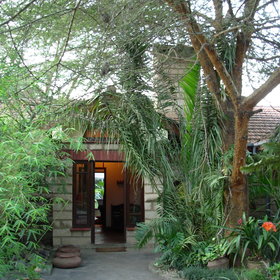 Macushla House
|
17%
|


Macushla House is a converted home situated in the leafy, quiet Langata area of southwest Nairobi. This residential suburb is about 18km from downtown Nairobi and 30km from the international airport. Macushla ...
Read more about Macushla House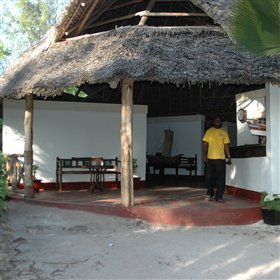 Pongwe Beach Hotel
|
17%
|


Nestled between two outcrops of coral rock and on a secluded stretch of white-powdery beach, Pongwe Beach Hotel is a quiet, simple and great value little lodge. Its sheltered cove is dotted with palm trees, hammocks ...
Read more about Pongwe Beach Hotel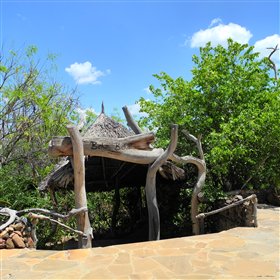 Beho Beho
|
17%
|

Beho Beho has a unique location in Selous Game Reserve – high on a hill in an area dotted with baobab trees. Indeed, the name Beho Beho means 'breeze'; apt given its airy location. Its site was first used as early ...
Read more about Beho Beho