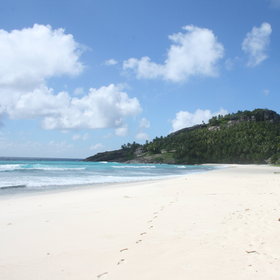 North Island is a large, beautiful private island - surrounded by tropical seas.
North Island: Our full report
Rooms
11 villas
Open
All year
Stretching along the North Island's east beach, the villas and main piazza were designed by a South African architectural team, Silvo Rech and Lesley Carstens. Their remarkable structures and interiors combining traditional styles from mainland Africa, Zanzibar and Bali, with the clean lines and space reminiscent of contemporary design.

Intricate, hand-cut floor and door carvings meet concertina glass walls; shaggy, woven thatching covers a sunken marble bath; coral rock curtains contrast with super-soft cotton bed linen – every intricacy is tasteful and thoughtful. Absolutely every detail has been carefully considered on North Island Seychelles, and it shows!

North Island Seychelles Villas
Each large, sea-facing air-conditioned villa on North Island boasts its own ocean-view plunge pool, open-sided dining room, kitchenette, room attendant and golf buggy (for getting around when you don't want to walk, and sunset rides to the fabulously funky cocktail bar on North Island's west beach!). There is also a spa and small gym above the central piazza, a palm-shaded swimming pool hewn into the granitic boulders which are typical of many of the Seychelles islands, a cool library (the venue for pre-dinner drinks and nightly island talks), and a naturally well-equipped, activities centre.
Each North Island villa also has a separate lounge, with its own stylish en suite bathroom, which can easily be converted into a large second bedroom for a family travelling together.
Activities on North Island
For those who can drag themselves away from their gorgeous villas, activities on North Island are wholly flexible and range from mountain biking to guided walks; snorkelling to scuba diving; fishing to body-boarding and kayaking.
There are also optional trips, charged locally, for big-game fishing and boat trips visits to other islands in the Seychelles. Helicopter hops for days out on other islands are also possible.
On every level, North Island strives to exceed expectations and deliver a truly stupendous experience. It has a price tag to match its very high standards, though it's difficult to argue that it doesn't offer value for money… after all, what price for a private paradise?
Changes due in 2009
Next year, in 2009, North Island is due to close for some changes. North Island is due to close for changes on 4 May 2009f, with rebuilding completed by the 1 November 2009.
This 'second phase' of building work will expand all of the villas slightly, and build a few further, larger villas as well. It's being overseen by original team of architects, Silvio Rech and Lesley Carstens, and also Maira and John Koustadakis on the interior design – so we're expecting more of the same very high standards.
Given the hard work on conservation to date, it's no surprise that this is part of the focus of the work – and some of the changes are geared towards installing alternative forms of energy, for a lighter environmental footprint for the whole lodge development.
The plan is for villas 1 to 10 to receive an 'in-villa' air-conditioned spa facility, whilst the current villa 11 ('Villa North Island' as its cometimes known) will be further enlarged, to incorporate a new double-volume lounge, an in-villa spa, a home entertainment centre and a small library.
In addition to these changes to the existing villas, three new villas will be built. The first is going to take the place of the existing spa building, at the south side of East Beach. This will have three bedrooms, and its own private spa and gym. The other two new villas are set above the Honeymoon Beach, south of West Beach; it's planned for these to have four rooms each, and for them to share a spa and gym between them.
Each of the three the new villas for 20089 will cover about 1,900m², and be aimed at small groups or families, with en-suite master bedrooms, a bad weather lounge, a good weather lounge, a sundeck, a satellite fire deck, and a private team of villa attendants and kitchen, with chef and small pool.
Our view is that North island is so big that this slight increase in the size of the lodge will impact very little on the overall experience. The villas are already so large and luxurious that many people spend quite a bit of time in their villas – so the island feels empty, even when it's full. There is just so much space here …
Geographics
Location: North Island, Seychelles
Ideal length of stay: At least 5 nights - it's just not worth coming for less!
Directions: North Island is about 20-30 minutes' by helicopter from Mahe Airport; alternatively transfers by boat (usually a private catamaran) can be arrange if flight times allow.
Food & drink
Usual board basis: Full Board
Food quality: North Island's extensive daily menu is merely a suggestion, with virtually all meals being prepared on request. Dining is flexible in time and location – though the private beach barbeques take some beating!

During our last stay here – we chose to dine a couple of times in our villa, once over at West Beach, and several times in the main piazza. The latter seldom had more than a dozen other diners, and so always felt very quiet. The food was excellent, and whilst we often took the chef's suggestions, several times we requested specific dishes of our own choice, which were also beautifully prepared.

The sea-food was consistently excellent, and the chefs also did a fine trade in 'sushi' starters from freshly-laneded fish.

The wine list is split into two: one section of wines which are 'included' in the cost, and a separate 'reserve' list.

To our slight surprise, the 'included' list was both extensive – with a range of interesting offerings from the Old and New worlds, and some excellent and eclectic vintages from slightly offbeat areas, from Alsace to Chile. Even committed wine buffs will find enough to explore for a week or so.

This 'included' list also contains common spirits and cocktails; only the moret costly and esoteric spirits – like old whiskies and cognacs – are found on the reserve list!

That said, the separate 'reserve' list, for which there are extra charges, was vastly most extensive with a number of first-growth clarets – often available for different vintages – and a strong selection of very top-end vintage champagnes.

If you want to drink Petrus, Margaux and Dom Pérignon – then you can do so on North Island; given the quality of the wines on offer, the prices for them were very fair
Dining style: Individual Tables
Dining locations: Indoor and Outdoor Dining
Cost of meal e.g. lunch: Included
Drinks included: Yes – drinks from the normal wine list are all included – and all soft drinks and usual spirits.
Special interests
Family holidays: Although North Island is one of the most costly lodges that we offer, there are excellent reductions for children – even up to 19 years old – and they have their own en suite room within the villa. So the layeout and facilities are excellent for families.
See more ideas for
Family holidays in Seychelles
Honeymoons: Again, it's difficult not to eulogise, but North Island is the most spectacular honeymoon destination that we know of; and although you do certainly get honeymooners here … the lodge's guests are seldom dominated by them. It's a very relaxing and luxurious place for a honeymoon – and very romantic too!
See more ideas for
Honeymoons in Seychelles
Beach holidays: It's difficult not to eulogise here, but North Island is the ultimate beach break that we offer: it's a private island I the Seychelles taking very few visitors – with three stunning beaches. Strolling around these, you'll very seldom have anyone else on the same beach as the island has so much space; there's a lot to explore.
See more ideas for
Beach holidays in Seychelles
Diving & snorkelling: North Island is surrounded by turquoise tropical seas, and there is very good snorkeling and coral within a short boat ride away. Most diving and snorkeling activities are included – and the dive centre is very friendly and helpful – as well as professional.
See more ideas for
Diving & snorkelling in Seychelles
Children
Attitude towards children: Children are welcomes here; every villa has a separate room which can be used as a bedroom for up to two children. There are very substantial reductions for children.
Generally recommended for children: Yes
Notes: North Island is very flexible; it's a superb place for a family holiday.
Central communications
Power supply: Generator
Communications: There is an internet point connected to a computer in the library, which is free for guests to use.
Health & safety
Malarial area: No
Medical care: There are first-aid trained staff, and a doctor is a short helicopter flight away, on Mahe Island.
Dangerous animals: Low Risk
Security measures: North Island is a remote private island, and there is nobody here who is not connected to the lodge. Security measures are generally redundant.
Extras
Disabled access: On Request
Laundry facilities: Full Laundry Service - Included