Useful links featuring Coco de Mer Hotel

Download a PDF...
To read what we say in our brochure, click on the link to download the brochure section including Coco de Mer Hotel. To save a copy onto your computer, right-click on the link and select 'Save Target as...'.
Useful links...
We want you to understand more about Coco de Mer Hotel. We're not shy to direct you to their own website as we're confident that a trip there with us will cost you the same or less than booking it any other way, even directly. So follow the links below for more information.
Homepage of Coco de Mer Hotel
Click here for more information and photos of Coco de Mer Hotel and Black Parrot Suites.
Coco de Mer Hotel is often combined with:
Sort by:
Name


|
% of trips


|
Traveller's rating


Le Sans Souci
|
40%
|


Reached via a mountain road which winds through the tropical vegetation, Le Sans Souci Guest House stands high on the mountain slopes overlooking Victoria port and the neighbouring islands of St Anne Marine National Park. Set amongst tropical mountain gardens, this gem ...
Read more about Le Sans Souci
Clef des Iles
|
40%
|


Clef des Iles is a relaxed self-catering property situated right on the beach of the lovely Beau Vallon Bay, in the north of Mahé Island. This property features four two bedroom duplex flats built in one single block on the sand - each duplex is spacious ranging from ...
Read more about Clef des Iles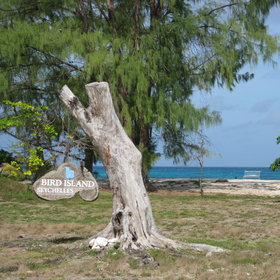 Bird Island Lodge
|
40%
|


Bird Island Lodge is the only place to stay on Bird Island, the northernmost island in the Seychelles archipelago. This low-rise coralline paradise, about 60 miles from Mahe, has striking sandy beaches bordered by beautifuly turquoise seas, but these are not the primary ...
Read more about Bird Island Lodge
Les Villas D'Or
|
20%
|


Les Villas D'Or are situated at the eastern end of Anse Volbert on the northern coast of Praslin Island, away from the busiest section of the beach. It is a haven of peace and quiet and the beautiful sand and azure-blue sea are just a few footsteps away. Les Villas ...
Read more about Les Villas D'Or
Hilton Northolme Resort & Spa
|
20%
|


Situated at the Glacis end of Beau Vallon Beach, the five star Hilton Seychelles Northolme Resort and Spa is perched on a hillside with panoramic views of the sweeping bay beyond. One of the first hotels in the Seychelles (it was built after WWI), it has been completely ...
Read more about Hilton Northolme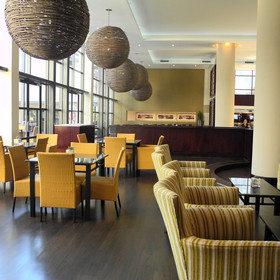 City Lodge OR Tambo
|
20%
|


About 300m from 'International Arrivals' at Johannesburg's OR Tambo International Airport, the City Lodge, which opened in 2010, is a modern hotel with 303 rooms. It's one of two hotels within the immediate airport complex (the other being the InterContinental), making ...
Read more about City Lodge JNB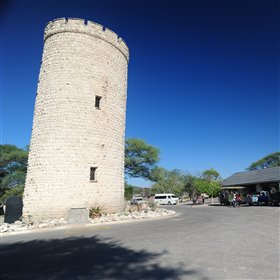 Okaukuejo Camp
|
20%
|


Okaukuejo Camp (formerly known as Okakwiju), meaning a woman who bore a child each year, stands near the public southern entrance of Etosha National Park, at the western end of the famous Etosha Pan. Although a larger camp than most we feature, it is a popular choice due ...
Read more about Okaukuejo Camp
Pension Palmquell
|
20%
|

In a quiet setting amongst some palm trees, Pension Palmquell is slightly out of Windhoek town centre. It is a bit to far to walk, but if you have a car it is still very convenient. The rooms all have AC and there is a pool and sauna to lounge in.
Read more about Pension Palmquell
Onguma Etosha Aoba
|
20%
|


Just 15 minutes' drive from Etosha's eastern entrance gate, and about 12–13km from the main road, the established and comfortable Onguma Etosha Aoba (formerly known as Etosha Aoba Lodge) stands in a tamboti forest on the private Onguma Reserve. This reserve dates back ...
Read more about Onguma Etosha Aoba
Dolomite Camp
|
20%
|

Nestled amongst dolomite outcrops near the Dolomietpunt waterhole, the aptly named Dolomite Camp is the first camp to be built in the far west side of Etosha National Park. Opened by Namibia Wildlife Resorts in 2011, the camp gives access to an area that few people have ...
Read more about Dolomite Camp
Grootberg Lodge
|
20%
|

Grootberg Lodge is located on a large private concession in the remote northwest of Namibia. Perched on the edge of the Etendeka Plateau, it probably has the most spectacular views of any lodge in Namibia! The lodge has been built in conjunction with the local # Khoadi ...
Read more about Grootberg Lodge
Okonjima Bush Camp
|
20%
|

STOP PRESS! Okonjima Bush Camp will be closed for renovations from 5th January to 30th April 2015. In the same area as the Main Camp, Okonjima Bush Camp is located a few kilometers south of Otjiwarongo. The Okonjima reserve is home to the Africat Foundation, and visitors ...
Read more about Okonjima Bush Camp