Useful links featuring La Reserve

Download a PDF...
To read what we say in our brochure, click on the link to download the brochure section including La Reserve. To save a copy onto your computer, right-click on the link and select 'Save Target as...'.
Useful links...
We want you to understand more about La Reserve. We're not shy to direct you to their own website as we're confident that a trip there with us will cost you the same or less than booking it any other way, even directly. So follow the links below for more information.
Homepage of La Reserve Hotel
Click here for further information and pictures of La Réserve hotel on the island of Praslin.
La Reserve is often combined with:
Sort by:
Name


|
% of trips


|
Traveller's rating


Hilton Northolme Resort & Spa
|
33%
|


Situated at the Glacis end of Beau Vallon Beach, the five star Hilton Seychelles Northolme Resort and Spa is perched on a hillside with panoramic views of the sweeping bay beyond. One of the first hotels in the Seychelles (it was built after WWI), it has been completely ...
Read more about Hilton Northolme
Bliss Hotel
|
17%
|

Situated in the north of Mahe at the Glacis end of Beau Vallon Beach, lies the charming Bliss Hotel. The hotel has two sides which stand on opposite sides of the road; there are 8 seaside rooms overlooking the beach, and 12 hillside rooms each with a private terrace ...
Read more about Bliss Hotel
Le Sans Souci
|
17%
|


Reached via a mountain road which winds through the tropical vegetation, Le Sans Souci Guest House stands high on the mountain slopes overlooking Victoria port and the neighbouring islands of St Anne Marine National Park. Set amongst tropical mountain gardens, this gem ...
Read more about Le Sans Souci
Jafferji House
|
17%
|


Opened at the start of 2012, Jafferji House is a new luxury boutique hotel located in the heart of Stone Town. It was formally the childhood home of locally-renowned photographer and tour operator, Javed Jafferji. He decided to open up his house by creating a high-end boutique ...
Read more about Jafferji House
Gorilla Mountain View Lodge
|
17%
|


The newest mid-range hotel in the Volcanoes National Park is the Gorilla Mountain View Lodge. The owners of the lodge are the former owners of the Mountain Gorilla's Nest. The Gorilla Mountain View Lodge has 20 individual cottages constructed out of brick and tile – ...
Read more about Gorilla Mountain View
Kigali Serena Hotel
|
17%
|

Serena Hotels took over the operation of Kigali InterContinental Hotel on 1st February 2007, renaming it the Kigali Serena Hotel. They extensively renovated it into a large up-market hotel with plenty of modern facilities. Located just 10 kilometers from Kigali airport, ...
Read more about Kigali Serena Hotel
Lake Manyara Tree Lodge
|
17%
|


The only lodge situated within Lake Manyara National Park, Lake Manyara Tree Lodge is tucked away in the far south of the park within a forest of mahogany, wild mango and fig trees. It's far from the busy main park gate used by almost all of the park's visitors. Like its ...
Read more about Lake Manyara Tree Lodge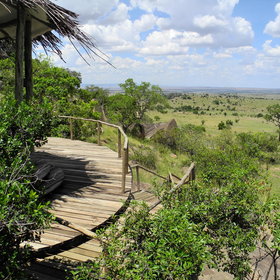 Lamai Serengeti
|
17%
|


Nomad Lamai Serengeti opened at the end of June 2011. It's set high up in the beautiful Kogakuria Kopjies, with views out towards the Mara River Valley and Lamai Wedge – in the far north of the Serengeti National Park, just south of the border with Kenya. Between July and ...
Read more about Lamai Serengeti