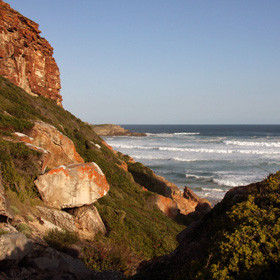 The Garden Route has a lovely scenery with beautiful beaches and verdant forests.
Latest Garden Route trip reviews
Happy to be back at Hog Hollow
4-Apr to 17-Apr 14
Excellent

Exellent location to explore the Craggs
18-Feb to 8-Mar 14
Excellent

Storms River Rest Camp - great location
27-Jan to 12-Feb 14
Excellent

Honeymoon Heaven!
18-Jan to 8-Feb 14
Excellent

Schoone Oordt Country House review
3-Nov to 16-Nov 13
Excellent

Garden Route
Strictly speaking, the Garden Route stretches from around Mossel Bay to Tsitsikamma – it's a narrow coastal band of land. On one side it's bordered by a string of deep-blue lagoons and white sandy beaches, which separate it from the Indian Ocean. On the other side are the forested slopes of the Tsitsikamma and Outeniqua Mountains. Between the ocean and the mountains sits this aptly named 'garden' – a stunning patchwork of lush vegetation, including the last of the Cape's ancient evergreen forests.
This is not an area to be rushed. Allow yourself at least four days, and preferably more, to drive into its mountains, potter around its small towns, and explore its coastline and beaches. Below are some of our favourite hotels and guest houses, listed under the areas in which they occur:
The Overberg and Swellendam
East of Cape Town, in the heart of the Overberg region, lies Swellendam; it makes a perfect stop for a night or two on the way to the Garden Route. Relax by pottering around this small, sleepy town's craft studios or museum, or be energetic and drive to Bontebok National Park for spectacular hiking. Places to stay include:
The Old Mill Guest House
A short wander from the centre of Swellendam, the Old Mill is a rustic, cosy and quiet, idiosyncratic guest house with open fires and earthy colours. It has six individual cottages, and makes a perfect halfway stop between George and Cape Town. (
Read more about the Old Mill…
)
Klippe Rivier Country House
Just outside town, Klippe Rivier is a friendly and welcoming place – and almost certainly the region's best-preserved manor house. The spacious bedrooms are decorated in a traditional colonial-style theme, and the gardens are lovely, with manicured lawns and old sweeping oaks. (
Read more about Klippe Rivier…
)
The Little Karoo
Tucked between the Swartberg Mountains in the north, the Langeberg Mountains in the southwest, and the Outeniqua Mountains in the southeast lies Little Karoo. This generally dry and hot area is one of the most diverse regions in the Western Cape, with gigantic cliffs, desert-like landscapes, crystal clear streams and fertile vineyards. We've two great suggestions for staying here:
Oulap Country House
On its own hilltop 55km east of Oudtshoorn stands Oulap: a unique, eclectic guest house with stunning views, exquisite cuisine, and an outdoor swimming pool. It's a real gem of a place, and the owners, Jans and Almeri Rautenbach, are excellent hosts! (
Read more about Oulap…
)
Rosenhof Country House
A more conventional place, Rosenhof Country House is situated on the outskirts of Oudtshoorn. 14 stylish rooms are set amidst the blooming rose garden, whilst the main house, a renovated homestead, boasts antique furniture and ceilings of yellowwood. (
Read more about Rosenhof Country House…
)
Wilderness
A lush, flat part of the Garden Route around the small town of Wilderness is veined by a network of rivers and lagoons. It's an area to enjoy the outdoors; hiking, mountain-biking, horse-riding and canoeing are all options inland, whilst on the water, fishing, surfing and kite-surfing are popular. It's a relatively quiet spot, where you'll also find good restaurants, and a good small hotel:
Hilltop Country House
In an elevated spot, Hilltop Country House overlooks the ocean and Wilderness National Park. It's a small place, with seven rooms, one self-catering chalet, and a historic main building, complete with a restaurant and a lounge. (Please call us for details about Hilltop Country House…)
Knysna
The small town of Knysna is a popular resort, known for its wood carvings, art galleries and fresh oysters. It stands beside a huge lagoon, which attracts large flocks of migrant birds and is home to an endemic species of sea horse. It's a good base for walkers to explore the coast, and a springboard for boat trips to the lovely Featherbed Reserve.
In the mountains behind the town are the remains of the lush indigenous forests which once covered the Cape. Here are vast towering trees of unfamiliar species; yellowwoods, stinkwoods and hard pears, many now rare due to the value of their timber. Places to stay include:
St James of Knysna
On a small peninsula near town, the St James of Knysna is a good hotel in a prime position, overlooking Knysna Lagoon. The 15 rooms are split between two buildings, the courtyard and the manor house; two swimming pools and a koi carp pond are set in manicured gardens. (Please ask us for details about St James of Knysna…)
Point Lodge
Next to St James of Knysna, Point Lodge is a more economic option. It's a friendly guesthouse with just nine rooms, a lovely swimming pool, and a quirky little bar with a mariner's theme. (
Read more about Point Lodge…
)
Phantom Forest
A refreshingly different hideaway and one of our favourites, Phantom Forest stands amidst an ancient forest in its own small nature reserve above Knysna. The 14 lovely tree suites are constructed from an innovative mix of wood, canvas and glass – everything feels as if it's an integral part of the forest! (
Read more about Phantom Forest…
)
Belvidere Manor Hotel
Near Knysna, Belvidere Manor Hotel is a curious place, with 27 separate cottages, each with its own small kitchen, set in extensive gardens. With a lovely swimming pool and good views over the lagoon, this makes a great spot for families. (Please call us for details about Belvidere Manor Hotel…)
Plettenberg Bay
For some, Plettenberg Bay is the epitome of the Garden Route – with lovely beaches, lakes, mountains and rivers, all within easy reach. Here you'll find the world's highest bungee-jump, a high-level canopy walk in the forest, plus great whale watching (from boats and the shore), and the Robberg Nature Reserve with its colony of Cape fur seals. Places to stay near Plettenberg Bay include:
The Plettenberg
In a stunning seaside location, overlooking Lookout Beach and the sparkling waters of Plettenberg Bay, the Plettenberg is one of the area's best hotels. It's stylish, light and airy, most of its 37 luxurious rooms are sea-facing, and the heated infinity pool is a perfect place to relax. (
Read more about the Plettenberg…
)
Periwinkle Guest House
Set on the outskirts of Plettenberg Bay, overlooking Robberg Beach and the whales and dolphins in Plettenberg Bay, the nautically themed Periwinkle Guest Lodge has seven tastefully designed en-suite bedrooms. They all feature local artwork, and are decorated with pastel greens, blues and sand colours. (Please ask us for details about Periwinkle Guest House…)
Southern Cross Beach House
Right beside Robberg Beach, the owner-run Southern Cross Beach House has five rooms, smartly decorated in muted modern tones. They are set plantation-style around a courtyard, and each has a wide veranda. This is a great little guest house, and a very friendly, informal place! (
Read more about Southern Cross Beach House…
)
Hog Hollow
Between Plettenberg and Tsitsikamma, Hog Hollow stands high on a hillside, overlooking the Tsitsikamma Mountains. The lodge has many quirky corners, African touches and unique, handcrafted artefacts – like the chandelier of candles above the dining table. (
Read more about Hog Hollow…
)
Hunters Country House
Set in a quiet, forested area between Plettenberg Bay and Knysna, Hunters Country House boasts 21 thatched suites, scattered around manicured gardens. Each suite has its own fireplace; the main house, a renovated homestead, has a conservatory where breakfast is served. (
Read more about Hunters Country House…
)
Tsitsikamma National Park
Further east, the Tsitsikamma Coastal National Park is best known for its walking trails and dramatic coastal scenery. This national park is organised for to hike around by themselves. A wander through the forest will reveal waterfalls, ravines and beautiful flora – whilst many of the walks follow spectacular sections of the coastal footpath. To stay inside the park – look at:
Storms River Restcamp
Storms River Restcamp stands in a spectacular location: high on a rocky promontory, overlooking the crashing waves below. It's an ideal base to explore the walking trails of Tsitsikamma National Park, with a variety of accommodation options, from camping to luxury cottage. (
Read more about Storms River Restcamp…
)