Hotels & places to stay in Grootbos Private Nature Reserve
Sort by:
Name


|
Traveller's rating


|
No. of reviews


Grootbos Garden Lodge

The Garden Lodge at Grootbos overlooks the Atlantic coast, just a short drive east of Hermanus. It's set within the beautiful ...More about Garden Lodge
We LOVE Grootbos! It's a stunning place. This was our second visit and we wouldn't hesitate to go back again. It's one of the top lodges in South Africa - ... reviews...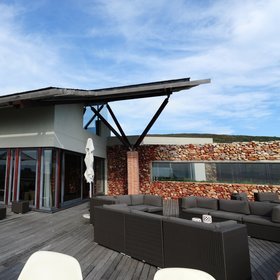 Grootbos Forest Lodge
Grootbos Forest Lodge is set within an impressive old milkwood forest within the small, but pristine Grootbos Nature Reserve. It bills itself as a "a masterpiece of sophisticated contemporary design – within a five-star eco-paradise", whilst attracting visitors for the nature on its reserve and ...More about Forest Lodge