Useful links featuring Oliver's Fly-Camp

Download a PDF...
To read what we say in our brochure, click on the link to download the brochure section including Oliver's Fly-Camp. To save a copy onto your computer, right-click on the link and select 'Save Target as...'.
Oliver's Fly-Camp is often combined with:
Sort by:
Name


|
% of trips


|
Traveller's rating


Oliver's Camp
|
180%
|


In the quiet south-east of Tarangire National Park, beside Silale and Lormakau marshes, Oliver's Camp is a lovely tented camp that sits on a low, sandy ridge. Open from June to the end of March, it is particularly good for game in the height of the dry season, when the ...
Read more about Oliver's Camp
Rivertrees Country Inn
|
60%
|

At the end of a long tree-lined driveway, halfway between the town of Arusha and Kilimanjaro International Airport, Rivertrees Country Inn lies on the banks of the Usa River within four hectares of lush, well-tended, tropical gardens. Filled with flame trees, bougainvillea, ...
Read more about Rivertrees Country Inn
Olakira Mara - Ndutu Camp
|
60%
|


Olakira Camp, sometimes known as either Olakira Mara, or Olakira Ndutu depending on where it's located, is the sister camp to Olakira Lamai, Ubuntu, Dunia and Sayari Camp and it is a semi-permanent tented camp that moves twice a year to a new location. Through the months ...
Read more about Olakira Camp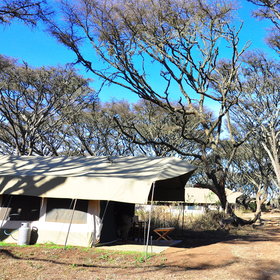 Lemala Ngorongoro
|
40%
|


Lemala Ngorongoro is located on the quieter eastern side of the Ngorongoro Crater rim, a short drive past the Lemala Gate. Lemala Ngorongoro's location is very peaceful with plenty of birdlife, and buffalo and elephant are known to wander through the camp at night. ...
Read more about Lemala Ngorongoro
Plantation Lodge
|
40%
|


Plantation Lodge is a tranquil owner-run lodge half way between the Ngorongoro Conservation Area and Lake Manyara National Park. A short distance from the bustling market town of Karatu, it is set in nearly 3 hectares of land, with beautifully maintained gardens and great ...
Read more about Plantation Lodge
Sayari Camp
|
40%
|

Sayari Camp (formerly known as Sayari Mara Camp) is a luxurious permanent camp situated in the far north of the Serengeti National Park. The undulating bush around is bisected by the Mara River and home to permanent game all year round. This part of the Serengeti is also ...
Read more about Sayari Camp
Dunia Camp
|
20%
|

Previously named Sayari South, Dunia Camp is located in Moru Kopjes in the south of central Serengeti. This is perfect for the Wildebeest Migration between December and March, and then well located for the resident game of the central Serengeti for the rest of the year...
Read more about Dunia Camp
Chole Mjini Lodge
|
20%
|


Chole Mjini is one of the most original small lodges that we know in Tanzania. Jean and Anne de Villiers established and built Chole Mjini with a very clear ideology, which contributes hugely to its atmosphere. It stands on Chole Island, just off the coast of Mafia Island, ...
Read more about Chole Mjini Lodge
Oyster Bay
|
20%
|

Owned by the team who run the top-end Beho Beho Camp , in the Selous Game Reserve, The Oyster Bay Hotel is in the 'Oyster Bay' district of Dar es Salaam. It was renovated extensively between 2006 and November 2007, and we first visited the hotel in November 2007, just ...
Read more about Oyster Bay
Lake Manyara Tree Lodge
|
20%
|


The only lodge situated within Lake Manyara National Park, Lake Manyara Tree Lodge is tucked away in the far south of the park within a forest of mahogany, wild mango and fig trees. It's far from the busy main park gate used by almost all of the park's visitors. Like its ...
Read more about Lake Manyara Tree Lodge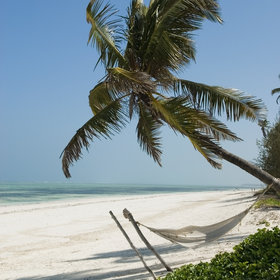 Breezes Beach Club
|
20%
|


Breezes Beach club occupies a lovely stretch of beach along the Michamvi Peninsula. Compared with many other Zanzibar lodges that we feature, it is a large (74 rooms) place, but being family-run it is less commercial than some of the international-style resorts that can be found here...
Read more about Breezes Beach Club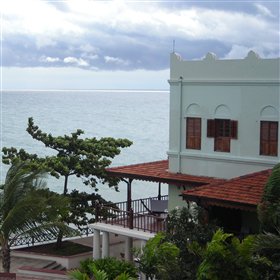 Serena Inn
|
20%
|

The Serena Inn in Stone Town is part of the internationally renowned Serena chain, which has hotels all over East Africa. The buildings which make up the Serena Inn were once used as the residence for a Chinese doctor but it has been a hotel for the past 12 years and has ...
Read more about Serena Inn