Useful links featuring Tarangire Treetops

Download a PDF...
To read what we say in our brochure, click on the link to download the brochure section including Tarangire Treetops. To save a copy onto your computer, right-click on the link and select 'Save Target as...'.
Useful links...
We want you to understand more about Tarangire Treetops. We're not shy to direct you to their own website as we're confident that a trip there with us will cost you the same or less than booking it any other way, even directly. So follow the links below for more information.
Tarangire Treetops own website
Click here to see what Tarangire Treetops says about itself!
Places which are most often combined with the Tarangire Treetops
Sort by:
Name


|
% of trips


|
Traveller's rating


Arusha Coffee Lodge
|
100%
|

Arusha Coffee Lodge is the urban sibling of Migration Camp and Tarangire Treetops. Set just outside of Arusha, a little off the main road to Lake Manyara, the Ngorongoro Crater and the Serengeti, Arusha Coffee ...
Read more about Arusha Coffee Lodge
Gibb's Farm
|
100%
|

Gibb's Farm was built by German settlers in 1929 and is situated half way between Lake Manyara and the Ngorongoro Crater. The main farmhouse was built nearly 80 years ago; it is one of northern Tanzania's oldest guesthouses...
Read more about Gibbs Farm
Olakira Mara - Ndutu Camp
|
100%
|


Olakira Camp, sometimes known as either Olakira Mara, or Olakira Ndutu depending on where it's located, is the sister camp to Olakira Lamai, Ubuntu, Dunia and Sayari Camp and it is a semi-permanent tented camp ...
Read more about Olakira Camp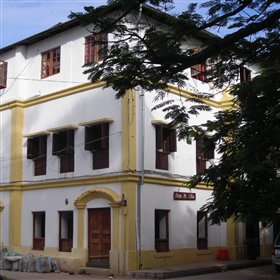 Beyt al Chai
|
100%
|


STOP PRESS Beyt al Chai will be closing its doors on 1st April 2013, when it is being taken over and refurbished by new owners. We await news of its reopening date. The Beyt al Chai is a small boutique hotel ...
Read more about Beyt al Chai
Breezes Beach Club
|
100%
|


Breezes Beach club occupies a lovely stretch of beach along the Michamvi Peninsula. Compared with many other Zanzibar lodges that we feature, it is a large (74 rooms) place, but being family-run it is less commercial ...
Read more about Breezes Beach Club