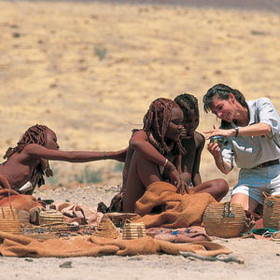 Chatting with some Himba women
Traditional Cultures in Africa
If the idea of an African 'cultural experience' makes you cringe, or brings to mind superficial tribal dancing and local people forced into demeaning, stereotypical roles – then rest assured: this is absolutely not what we offer.

Looking through our website's pages you'll find very few places where we write of traditional cultural experiences. That's because we simply do not send visitors to interact with local people who live in Africa's more fragile, original cultures unless we can be sure that it'll be beneficial to both our visitors and their hosts. Fortunately, there are a few places like this where you can meet individuals living traditional lives – and the meeting leaves you with a mutual understanding and respect.

Traditional cultures in Namibia
Namibia heads our list of favourites. If you're interested in getting to know people of a radically different cultural background then by far the best experience that we know of is with the Bushmen of the Kalahari at
Nhoma Camp
near Tsumkwe. Getting to know these people takes time so spend at least three or four nights in this area. We've had several guests fall in love with the experience, even returning to spend several weeks with the villagers.
North-western Namibia is also an interesting area, with a lot of community development happening around the excellent
Grootberg Lodge
and
Doro Nawas
– while trips onto the Skeleton Coast and to
Serra Cafema
include sensitively-arranged visits to local Himba villages.
(
See more ideas for Namibia holidays with a cultural aspect…
)
Traditional cultures in Botswana
In Botswana, visiting Bushmen communities with anything like the depth of experience that's found in Tsumkwe is surprisingly difficult – although
Edo's Camp
does go some way towards accomplishing this. Mobile trips to the
Tsodilo Hills
can offer an interesting historical perspective on their culture, and there are San/Bushmen guides at
Jack's Camp
and
San Camp
and at
Deception Valley Lodge
.
(
See ideas for experiencing more of Botswana's culture during your safari…
)
Traditional cultures in Zambia
Visitors to Zambia should certainly seek out
Kawaza Village
, beside South Luangwa National Park, for a very genuine glimpse into traditional Kunda life. This is a super experience; it really is a slice of real African village life!
On a very different level, no visit to Zambia's Western province would be possible without noting some of the amazing Lozi culture. A safari to
Matamanene Camp
, in Liuwa Plain, is really a wildlife trip – but gets you into a fascinating cultural area!
Similarly, a few days at
Shiwa Ngandu
, in north-eastern Zambia, will give you the chance not only to peer into the country's colonial history, but also to meet Zambians of today, and see how they live, and the challenges that they face. It's a very 'real' experience – as far from contrived as you could imagine – and hence we'd recommend this for someone interested in Zambia's cultural heritage!
(
See ideas for experiencing more of Zambia's culture during your safari…
)
Traditional cultures in Tanzania and Zanzibar
In Tanzania there are several opportunities to interact with traditional Maasai communities.
E Unoto Retreat
deserves a special mention for this, whilst several of the small, tented camps in the Loliondo area and at Lake Natron also provide good opportunities.
Zanzibar is full of different cultures, but accessing them on a short visit can be tricky.
Chumbe Island
has a distinctly local flavour. Some of the day-trips, especially the engaging Jambiani Village Cultural Tour, offer great cultural insights and a surprisingly rare opportunity to interact with the villagers through a respected local resident.
Nearby
Chole Mjini Lodge
, on Mafia Island, is built beside a village, and closely integrated with it – for the benefit of both the villagers and the visitors.
(See more ideas for holidays with a cultural aspect in
Tanzania
and
Zanzibar
)
Cultural adventures with Wild about Africa
Wild about Africa
specialises is simple and luxury camping safaris to Namibia and Botswana. If you're interested in Africa's traditional cultures, and prefer to travel in a small group of like-minded adventures, see
Wild about Africa's
ideas for
Cultural travel in small groups
.
Traditional Cultures in

Zimbabwe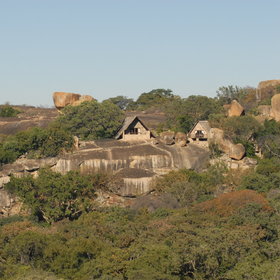 Ideas for traditional cultures in Zimbabwe