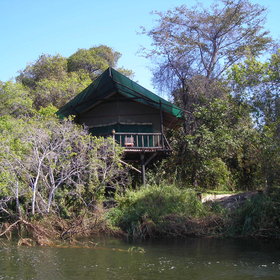 Islands of Siankaba is built…
Chalet
Each of the seven chalets at Siankaba is beautifully furnished, offering understated luxury, and peaceful seclusion. The rooms are raised two to three metres from the ground and have their own private balconies, overlooking the Zambezi.

In contrast to the half-canvas walls and roof, the interior of accommodation oozes luxury and comfort. Polished teak furniture sits on polished teak floors, offset by thick oriental rugs. There are comfortable beds with an integral ceiling fan, and mosquito nets are hung like four-poster curtains. Good reading lights complement the otherwise subdued lighting. Each room has its own mini-fridge and safe tucked discreetly away in the corner.

Your bathroom is set on a platform to the rear of your chalet, complete with regal claw-footed bathtub and twin pedestal china basins, as well as a frosted-glass modern shower and separate toilet.

Soap, shower gel, shampoo, conditioner and thoughtful touches like floating candles, hand and body lotion, and waffle robes are also provided, and add to the sense of luxury. You are also supplied with citronella insect repellent and Doom (a bug spray).