Useful links featuring Kasaka River Lodge

Download a PDF...
To read what we say in our brochure, click on the link to download the brochure section including Kasaka River Lodge. To save a copy onto your computer, right-click on the link and select 'Save Target as...'.
Useful links...
We want you to understand more about Kasaka River Lodge. We're not shy to direct you to their own website as we're confident that a trip there with us will cost you the same or less than booking it any other way, even directly. So follow the links below for more information.
Kasaka River Lodge's own website
Click here to look at more information and images from Kasaka's own website
Places which are most often combined with the Kasaka River Lodge
Sort by:
Name


|
% of trips


|
Traveller's rating


Sausage Tree Camp
|
50%
|


Within the Lower Zambezi National Park, beside the confluence of the picturesque Chifungulu Channel and the Zambezi River is the beautiful Sausage Tree Camp. Just in front of the camp lies the old sausage tree ...
Read more about Sausage Tree Camp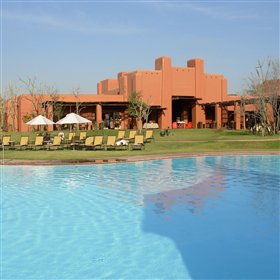 Zambezi Sun
|
50%
|


For a super-value option, and a location right beside the Falls, choose the Zambezi Sun. It's adjacent to its sibling hotel, the Royal Livingstone. The atmosphere at the Zambezi Sun is informal, and the design ...
Read more about Zambezi Sun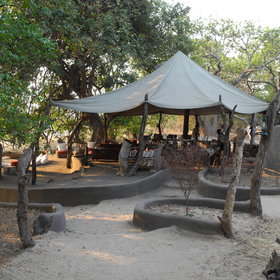 Tena Tena
|
50%
|


Run by Robin Pope Safaris , Tena Tena is in the remote Nsefu Sector, on the north side of South Luangwa National Park in an area rich with game. In August 2012 the camp was moved to a new location, about a kilometre ...
Read more about Tena Tena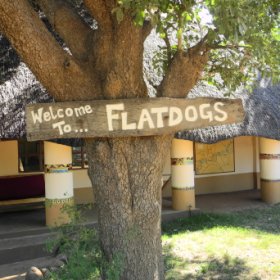 Flatdogs Camp
|
50%
|

Located just outside the gates into South Luangwa National Park, Flatdogs Camp was once famous for being an excellent backpackers option and a really low cost way of visiting the area. It has certainly retained ...
Read more about Flatdogs Camp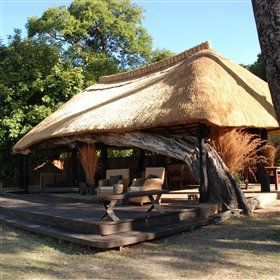 Mchenja Bushcamp
|
50%
|


Mchenja Bushcamp is Norman Carr Safaris' flagship and most luxurious bushcamp. It's a beautiful camp in a lovely setting within an ebony grove, beside a bend of the Luangwa River. We loved Mchenja Bushcamp when ...
Read more about Mchenja Bushcamp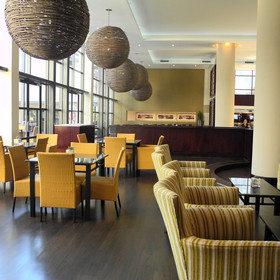 City Lodge OR Tambo
|
50%
|


About 300m from 'International Arrivals' at Johannesburg's OR Tambo International Airport, the City Lodge, which opened in 2010, is a modern hotel with 303 rooms. It's one of two hotels within the immediate airport ...
Read more about City Lodge JNB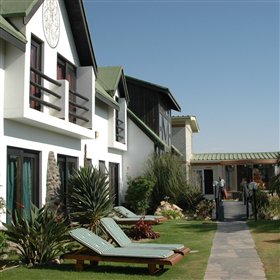 Sam's Giardino
|
50%
|


The comfortable Sam's Giardino is set in an attractive garden, just a few minutes' walk from the centre of Swakopmund. Run by its enthusiastic Swiss owner, Sam, and his exuberant dog, Beethoven, it is both welcoming ...
Read more about Sam's Giardino
Bagatelle Kalahari Game Ranch
|
50%
|


Bagatelle Kalahari Game Ranch stands on the east side of the D1268, about 25km north of the tarred C20 road, between Hardap and Stampriet. This owner-run tranquil lodge in the red Kalahari dunes was initially a ...
Read more about Bagatelle Game Ranch
Hoodia Desert Lodge
|
50%
|

Named after a flowering cactus, Hoodia Desert Lodge opened in 2008, making it one of the newest lodges in Namibia's Namib-Naukluft National Park. The lodge has a stunning setting at the foot of the mountains overlooking ...
Read more about Hoodia Desert Lodge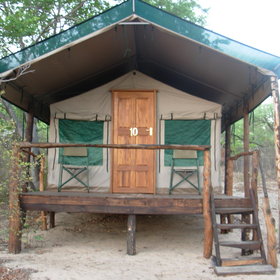 Nhoma Camp
|
50%
|


Nhoma Camp is a small tented camp in Bushmanland that takes its name from the nearby Bushman village of //Nhoq'ma. The camp is run by Arno and Estelle Oosthuysen who have worked with and to the benefit of the Bushmen ...
Read more about Nhoma Camp