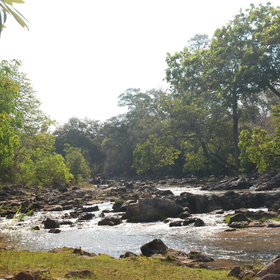 Mwaleshi stands beside the Mwaleshi River, in North Luangwa National Park
Twin Room
The rooms at Mwaleshi are constructed of simple reed and thatch and are very light and airy. There are windows to the front, which are covered in a criss-cross design of reeds. The eaves are open, letting a cool breeze through and the rooms are furnished simply.

Twin beds with wooden bed-head and walk-in mosquito nets face the window, and a bedside table between these has a solar lamp, mosquito room and body sprays and a self charging (you shake it to charge it!) torch for guests to use.

In the corner is a hanging space and two large shelves, one big and strong enough for a suitcase. In front of the windows are two metal directors chairs. Outside one of the chalets is a hammock for whiling away the afternoon.

The bathrooms at Mwaleshi are all en-suite and open to the air – although most of them are in the shade of one or more trees. There is a basin set into a reed counter, with a "hatch" in front – through which hot water is passed in a jug first thing in the morning.

There is an open air shower (hot water available on request) with a view of the river and a separate flush toilet which is the only part of the bathroom to have a "roof". The bathroom floor is soft sand with wooden slatted mats outside the shower.