Cardamom Beach add-on: In full
Begin your 7 day island add-on, relaxing on the pure white beaches of northern Zanzibar or indulging in the variety of water sports on offer at your hotel; then immerse yourself in the hustle and bustle of lively Stone Town and its array of antique shops, museums and historic buildings.

This trip includes flights from and back to Dar es Salaam, but no international flights. It is designed to add onto the end of one of our Tanzania safaris to create a longer holiday with two separate parts: a bush safari and a relaxing beach break.
---
Days 1-5
5 nights at Ras Nungwi Beach Hotel (half board) | Northern Zanzibar, Zanzibar
After finishing your chosen safari, you connect through Dar es Salaam onto a short 20-minute domestic flight to Zanzibar Airport. Here you are met and driven for a further two hours directly to the pristine north coast beaches and turquoise waters of Nungwi and the beautiful Ras Nungwi. With 5 nights here you have ample time to enjoy the pool and beach, try a variety of water sports, and explore the nearby and charming Nungwi village.
---
Days 6-7
2 nights at Beyt al Chai (bed & breakfast) | Stone Town, Zanzibar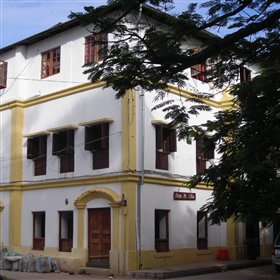 In the morning your car will collect you from the Ras Nungwi Beach Hotel and drive you for about 2 hours to Stone Town. Pass through the small farming communities of Zanzibar where bicycles laden with goods for sale and women dressed in colourful traditional kangas line the roads, on your way to the Beyt al Chai. Spend
2 nights
here, losing yourself in the history of this old world Arab trading port, visiting the vivid back street markets or picking out a few of the fascinating museums. In the evening head to the downstairs restaurant which is highly regarded in Stone Town.
---
Day 8
Spend the last day looking around Stone Town or shopping for those last-minute souvenirs, before heading back to the airport to continue with your onward journey.
---
See Prices & details for the precise dates/prices for this trip - and all the fine print.