Useful links featuring The Palms

Download a PDF...
To read what we say in our brochure, click on the link to download the brochure section including The Palms. To save a copy onto your computer, right-click on the link and select 'Save Target as...'.
Useful links...
We want you to understand more about The Palms. We're not shy to direct you to their own website as we're confident that a trip there with us will cost you the same or less than booking it any other way, even directly. So follow the links below for more information.
The Palms homepage
Flash introduction can be skipped to reveal some useful information, and lots of enticing pictures.
The Palms is often combined with:
Sort by:
Name


|
% of trips


|
Traveller's rating


Fumba Beach Lodge
|
33%
|


Fumba Beach Lodge first opened its doors in 2005, and offers plenty of style, character and creativity - with bright colours and a real feeling of space throughout the lodge. It is the perfect place for those seeking a bit of privacy as there are endless places to sit and ...
Read more about Fumba Beach Lodge
Selous Impala Camp
|
33%
|

Selous Impala Camp is situated on a wooded stretch of the stunning Rufiji River within the Selous Game Reserve. Simply though stylishly designed, it offers varied safaris and combines well with its sister camp in Ruaha National Park, the rather more spartan Mdonya Old River Camp...
Read more about Impala Camp
Oyster Bay
|
33%
|

Owned by the team who run the top-end Beho Beho Camp , in the Selous Game Reserve, The Oyster Bay Hotel is in the 'Oyster Bay' district of Dar es Salaam. It was renovated extensively between 2006 and November 2007, and we first visited the hotel in November 2007, just ...
Read more about Oyster Bay
Siwandu (Selous Safari Camp)
|
33%
|


Very plush and luxurious, Selous Safari Camp is set amid mixed woodland on the shores of Lake Nzerakera, in the Selous Game Reserve. There are two different and entirely separate sections of the camp – North and South – and one or both are used, depending on the number of guests...
Read more about Siwandu (Selous Safari)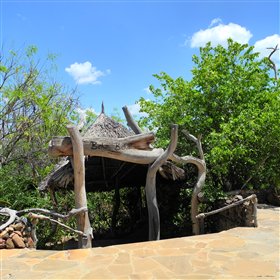 Beho Beho
|
33%
|

Beho Beho has a unique location in Selous Game Reserve – high on a hill in an area dotted with baobab trees. Indeed, the name Beho Beho means 'breeze'; apt given its airy location. Its site was first used as early as 1972, and it's not only one of the reserve's first camps, ...
Read more about Beho Beho