Useful links featuring Ras Nungwi Beach Hotel

Useful links...
We want you to understand more about Ras Nungwi Beach Hotel. We're not shy to direct you to their own website as we're confident that a trip there with us will cost you the same or less than booking it any other way, even directly. So follow the links below for more information.
Ras Nungwi homepage
This is an extensive and fast-loading site with lots of information, various factsheets and even a copy of the wine list!
Places which are most often combined with the Ras Nungwi Beach Hotel
Sort by:
Name


|
% of trips


|
Traveller's rating


Selous Impala Camp
|
54%
|

Selous Impala Camp is situated on a wooded stretch of the stunning Rufiji River within the Selous Game Reserve. Simply though stylishly designed, it offers varied safaris and combines well with its sister camp ...
Read more about Impala Camp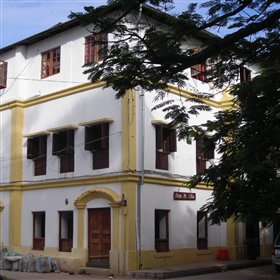 Beyt al Chai
|
31%
|


STOP PRESS Beyt al Chai will be closing its doors on 1st April 2013, when it is being taken over and refurbished by new owners. We await news of its reopening date. The Beyt al Chai is a small boutique hotel ...
Read more about Beyt al Chai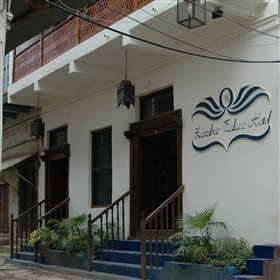 Zanzibar Palace Hotel
|
23%
|

Opened in July 2006, the Zanzibar Palace has quickly gained a reputation as one of the best boutique hotels in Stone Town. The hotel has been renovated with a lot of care and thought, and the owners, Frans and ...
Read more about Zanzibar Palace Hotel
Lake Manze Adventure Camp
|
23%
|


Lake Manze Adventure Camp (sometimes referred to as Lake Manze Tented Camp, and often known simply as Lake Manze Camp) opened in 2007 as a sister camp to the existing and very good Selous Impala and Mdonya Old ...
Read more about Lake Manze Camp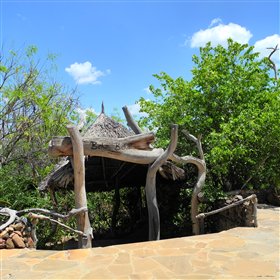 Beho Beho
|
23%
|

Beho Beho has a unique location in Selous Game Reserve – high on a hill in an area dotted with baobab trees. Indeed, the name Beho Beho means 'breeze'; apt given its airy location. Its site was first used as early ...
Read more about Beho Beho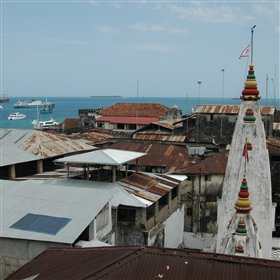 Zanzibar Coffee House
|
15%
|


The small Zanzibar Coffee House Hotel sits above a coffee shop down one of Stone Town's narrow streets. All their coffee comes from the owner's plantation in southern Tanzania. The beans are roasted on site at ...
Read more about Zanzibar Coffee House
Mwagusi Safari Camp
|
15%
|


Set on the banks of the seasonal Mwagusi River, Mwagusi Camp is both smart and very comfortable, yet quite rustic in feel. It has been operating in Ruaha National Park for well over a decade. As a result, the game ...
Read more about Mwagusi Safari Camp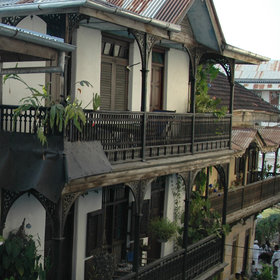 Dhow Palace Hotel
|
8%
|

The Dhow Palace Hotel in Stone Town is a beautiful old building full of Swahili character. Originally, the building belonged to a wealthy Arab from the Omani royal family. It then remained as a private house until ...
Read more about Dhow Palace Hotel
Unguja Lodge
|
8%
|


Run by the ever-helpful couple, Ralph and Elies, Unguja Lodge is a small, relaxed and friendly lodge in a lovely spot overlooking the picturesque Menai Bay Conservation area. The design of Unguja is modern ...
Read more about Unguja Lodge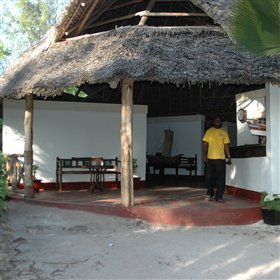 Pongwe Beach Hotel
|
8%
|


Nestled between two outcrops of coral rock and on a secluded stretch of white-powdery beach, Pongwe Beach Hotel is a quiet, simple and great value little lodge. Its sheltered cove is dotted with palm trees, hammocks ...
Read more about Pongwe Beach Hotel
Kinasi Lodge
|
8%
|


Kinasi opened its doors in 1996 onto a beach that is still quiet, on Mafia Island overlooking Chole Bay, within the Mafia Island Marine Park. Its main lounge, bar and dining area, as well as the cottages for it ...
Read more about Kinasi Lodge
Mdonya Old River Camp
|
8%
|


Set in acacia woodland in the heart of Ruaha National Park, Mdonya Old River Camp was designed with a conscious desire to remain simple, and in keeping with their surroundings. It makes no apologies for sticking ...
Read more about Mdonya Old River Camp
Siwandu (Selous Safari Camp)
|
8%
|


Very plush and luxurious, Siwandu (previously known as Selous Safari Camp) is set amid mixed woodland on the shores of Lake Nzerakera, in Selous Game Reserve. There are two different and entirely separate sections ...
Read more about Siwandu (Selous Safari)