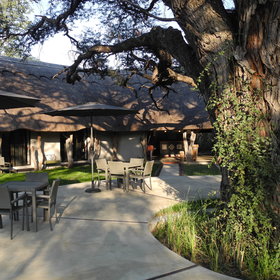 Camelthorn is a brand new camp situated on the southeast edge of Hwange National Park
Camelthorn: Our full report
Rooms
8 Forest Villas
Children
Best for 12 yrs +
Open
All year
Situated in a remote spot beside the extreme southeast corner of Hwange National Park, Camelthorn is one of the newer camps in this region of Zimbabwe. As the name suggests, the camp is hidden in a forest of mature camelthorn, and situated only a short (ten-minute) drive away from the national park. The forest surrounding camp soon gives way to open plains and a network of pumped waterholes, both providing good opportunities for game viewing. Camelthorn is a very well designed camp, with a great deal of thought and attention put into creating a stylish but authentic safari feel.

The centrepiece of the camp's main area is a large camelthorn tree, encircled by a platform dotted with tables. Meals are often served here al fresco, or in a large indoor dining room housed in a crescent-shaped thatched building. This is also where the bar is found with an open-plan lounge area housing a collection of dark wood furniture and a few comfortable chairs.

Camelthorn is situated just next to the Bulawayo – Victoria Falls railway line which acts as the boundary between Hwange National Park and the adjacent communal lands. So, little surprise then that there's a subtle railway theme to the camp's main area. The bar is adorned with black and white photographs of Zimbabwean locomotive history, and in addition to these and a few old maps the wall space is shared with some fantastic shots of the local elephant population. Incidentally, guests shouldn't be put off by the camp's proximity to the railway line. There is precious little rolling stock moving up or down here nowadays. So, despite the odd train passing by sporadically, Camelthorn still feels far-removed and remote - with very few modern day distractions.

One of the few things the railway is still used for is Camelthorn's 'Elephant Express'. A purpose built tram that transfers guests from Hwange Town to Ngamo Station, not far from camp. At Ngamo guests are picked up by vehicle for a final short drive to Camelthorn. On our last research trip to Zimbabwe the Elephant Express was still in the workshop having the finishing touches applied to it before testing. We had a good look around and were really impressed by what we saw. It's been built to a very high standard and we particularly liked the elephant headed hand railings. There are plans in the future to transfer guests all the way from Victoria Falls to Camelthorn via the Express, which will be a fantastically novel way of arriving on safari.

Back at camp and away from the main area, each of the Eight Forest Villas are reached via sandy pathways which meander through the dense woodland. The thick bush and vegetation means that each of the villas is well separated from the next and they all have a very secluded setting. These large concrete buildings have high, corrugated roofs, which admittedly don't sound very attractive when laid out here in text. However, they are actually quite charming and we'd recommend you look at the adjacent slideshow to see an illustration of what we're describing.

At the front of each villa is a patio where there are a couple of iron chairs and a table positioned looking out onto the surrounding bush. Just in front of this outside area there is a small patch of cleared ground on which a freestanding hammock has been placed. There's a spiral staircase to one side of the patio, which leads up to a balcony. Here there's a daybed, perfect for relaxing on during siesta time in the early afternoon - it's shaded and the stone material helps maintain a cool temperature during the heat of the day.

Back down the staircase each Villa is accessed through sliding doors, one glass and one mesh, that open out onto the patio. Inside the villas are very spacious, comfortable and thoughtfully designed for both the warmer summer and cooler winter months. The centrepiece of each is a double or twin bed. To the side of each bed is a dressing table and there's also an electronic safe on the floor. Beneath the high ceilings, the polished concrete floors are covered with decorative mats and carpets. These make the early mornings that little bit more bearable than would otherwise be the case if the floor was left bare. Each villa has a large fireplace which can be lit for guests on request, usually while the room is being turned down in the evenings. The fireplace certainly helps on the clear winter evenings, when temperatures in Hwange have been known to plummet. A couple of armchairs and a coffee table are found in front of the fireplace and there are some topical wildlife magazines here for guests to read during their stay.

One further thoughtful touch to each villa is a wooden cubbyhole built into the wall. This has a door on the inside of the villa and a door on the outside. In the morning your wake up call will be accompanied by a selection of tea and coffee as well as some cookies, all of which will be placed here ready to help you kick-start your day and get over the early morning wake up.

We really liked the accommodation at Camelthorn on our first visit here in May 2014. The high ceilings and concrete floors could easily mean the rooms feel cavernous and cold but this isn't the case at all. High windows let in plenty of light, while the mesh sliding doors mean that the rooms aren't too stuffy either. Dark teak furniture and wooden railway sleepers have been used to add warmth and colour to the high white walls.

Each villa has an en-suite bathroom which is very stylish, with clean lines and a rendered finish lending a modern feel. Each contains a shower and a bath as well as his-and-hers washbasins. The bath is elevated a little with a couple of steps leading up to it while the shower is large, with very good pressure and plenty of hot water. The toilet is found to the side of the bathroom in a separate room, with a lockable door for privacy. As with many top safari camps and lodges these days there are few complimentary toiletries found next to the washbasins and in the shower too.

Camelthorn and its sister camp, Bomani Tented Camp, both already have high-quality guiding teams in place. Sibs Sibanda is the camp's Head Professional Guide and he brings an enormous amount of experience to the role as well as being a very personable and courteous host too. Activities on offer at Camelthorn include all the normal 4WD and walking safaris one would expect in Hwange. Guests explore the national park by crossing over the railway line, through a dedicated gate and into an area known as Ngamo Plains. Heading further north and west for just a short time, one quickly notices as the thick vegetation begins to give way to open plains. Here a network of pumped waterholes in these more open areas means game viewing is generally very good, especially during the dry season (June -> October). The team at Camelthorn have taken advantage of this with their original 'look-up hide'. This innovative design is made from a sunken shipping container that's been modified with narrow blinds built into it, enabling those inside to look out onto the waterhole from ground level.

In addition to the hide itself a clever system of pumped troughs has been sunk into the ground next to the main pan. A system of taps can be opened or closed to fill each trough, meaning the water can be directed to attract elephants to a position of more favourable light for photography.

In addition to the more traditional walking and vehicle based activities Camelthorn also offers guests the chance to engage in a 'pump-run'. All of the artificial waterholes inside Hwange National Park require maintenance to their pumps. Many of these pumps have fallen into decline in recent years and as a result the game in these areas has all but disappeared. Camelthorn's presence in this more remote area of Hwange, and the access the camp provides to the more remote waterholes and pumps of the National Park is helping to change this. The maintenance and upkeep of the pumps in this more southerly region is a responsibility that Camelthorn take very seriously but rather than limit this responsibility to just that of the camp's staff they have turned it into an activity which guests can participate in too. A full day is spent travelling from pump to pump by vehicle, game viewing with your guide along the way. This is a great opportunity for guests to not only get out into a more remote area of the national park which isn't well visited, but to also contribute in a tangible way to the upkeep of the national park's vital water sources.


Our view
The remote location of Camelthorn makes this a real favourite of ours. The nearby Ngamo Plains to the west of camp are a beautiful region of Hwange, with good game densities. Camelthorn itself is very stylish with a lot of thought put into the camp's design, yet it still manages to maintain a distinct bush feel. The guiding team at Camelthorn is very experienced and knowledgeable and the variety of activities on offer is diverse. Apart from the usual game drives (day & night) and bushwalks guests can spend time in the camp's unique sunken hide, go on a pump run where they'll help with the upkeep of southern Hwange's waterholes as well as visit a local school and village. We're really impressed with Camelthorn and look forward to watching it develop over the coming years.
Geographics
Location: Hwange National Park, Zimbabwe
Ideal length of stay: We'd recommend a stay of three or perhaps four nights at Camelthorn. It's remote so take's a little longer to get to than many other Hwange properties, and there's plenty to keep guests entertained on arrival.
Directions: Most guests who travel to Camelthorn will arrive by road, usually from Victoria Falls or Bulawayo, via Halfway House. This small service station acts as a staging post on the main road between Victoria Falls and Bulawayo and here guests will meet their guide before continuing on to camp – a drive of a couple hours. Another option is for guests to transfer by road to Hwange Town. Here they will be dropped at the railway station where they board the Elephant Express - a purpose built tram that carries guests down the mainline towards Camelthorn. They will disembark the train at Ngamo Station where they will board a waiting game drive vehicle and be driven to camp. For guests wishing to fly in to camp there are a couple of nearby airstrips. It's a bout a one hour flight transfer by light aircraft from Victoria Falls to these airstrips.
Accessible by: Fly-and-Transfer
Key personnel
Owner: Imvelo Safari Lodges
Staff: Head Guide: Sibs Sibanda
Food & drink
Usual board basis: Full Board
Food quality: On our last visit to Camelthorn we were very impressed by the quality of the food on offer.

The day begins with an early breakfast around the campfire. There was a simple but varied spread of toast, yoghurt and cereal as well as fruit accompanied by tea, coffee and fruit juice. This set us up well for the morning game drive during which a tea and coffee break is again taken. On return to camp brunch is served, and depending on the time we returned to camp this was either a full English breakfast or a cheese and bacon burger with baked potato wedges and a three bean salad.

After the afternoon siesta high tea was served which on our last visit consisted of millionaire shortbread on one afternoon. On the afternoon game drive there is always stop for some drinks while watching the sunset and these are accompanied by snacks - the honey glazed sesame chicken wings were excellent.

Dinner was usually a three course affair with a starter of chicken and asparagus terrine served with melba toast on one occasion. For the main course we enjoyed grilled pork chops stuffed with apple and cheese. Dessert was a caramel mousse served on Amarula chocolate sponge with tuile biscuits.

There is certainly no danger of anyone going hungry during a stay at Camelthorn and we were very impressed with the standard of the cuisine.
Dining style: Group Meals
Dining locations: Indoor and Outdoor Dining
Cost of meal e.g. lunch: Included
Drinks included: Bottled water, soft drinks, local beers and spirits, and a selection of South African red and white wines are included. Champagne and imported wines and spirits will cost extra and may need to be requested in advance.
Further dining info: Room service is not available
Special interests
Photography holidays: For guests looking to get shots of elephants Camelthorn's 'look up hide' gives great angles and up close and personal photographic opportunities
See more ideas for
Photography holidays in Zimbabwe
Children
Attitude towards children: Camelthorn does welcome older children but there is quite a mature feel to camp. The lack of a swimming pool or any other amenities which would appeal to children may also mean this isn't the best camp for a family safari.
Property's age restrictions: Camelthorn accepts children of 7 years and older.
Special activities & services: There are no special activities and services for children provided by camp.
Equipment: There is no specialist equipment provided for children at Camelthorn.
Generally recommended for children: We would recommend Camelthorn for children over the age of 12 years.
Notes: Camelthorn is an open camp with big game frequently roaming through it. We would recommend this camp for older children and teenagers rather than anyone still in single figures. Children should be supervised at all times.
Infrastructure
Power supply: Generator
Power supply notes: Camelthorn's generator runs during peak times in the mornings, at lunchtime and in the evenings. Once all guests have gone to bed, the generator is switched off but each chalet has lights supported by a battery so guests will rarely notice any difference from the camp being on mains electricity.
Communications: There is cell phone signal at Camelthorn.
TV & radio: There is no TV or Radio at Camelthorn.
Water supply: Borehole
Water supply notes: Each chalet at Camelthorn has ample supply of water. The showers are plumbed and the toilets are flush loos.
Health & safety
Malarial protection recommended: Yes
Medical care: The guides at Camelthorn are all first aid trained and for anything serious there is a doctor in Hwange Town. Medical Air Rescue Service (MARS) is available for any cases deemed serious enough for evacuation from camp.
Dangerous animals: High Risk
Security measures: A night watchman patrols the camp at night and there is an electronic safe in each room for keeping valuables in.
Fire safety: There are fire extinguishers placed around camp.
Extras
Disabled access: Not Possible
Laundry facilities: Full laundry service is included, except for underwear, for which washing powder is provided in the bathrooms.
Money: No exchange facilities offered. There are safes in all the rooms.
Accepted payment on location: Rand, US Dollars, Pounds, Euros and Botswana Pula are accepted. There are no card facilities at Camelthorn.