Klipspringer Safari: In full
This outstanding-value Zimbabwe safari starts in Victoria Falls before exploring three contrasting locations in western Zimbabwe: Hwange, Matobo Hills and Bulawayo. Travel between these is easy and the journeys will give you a real feel for Zimbabwe and its people.

This safari starts with the big game of Hwange National Park, home to the famous Presidential Elephants. Thence it heads for the stunning Matobo Hills National Park where there are a mix of activities on offer: from tracking some of the many rhinos here on foot; to more conventional game drives; and a variety of trips to historic sites with first-rate guides well-versed in the local history. Finally round off the trip with a few nights in Bulawayo, at a venerable old hotel from where you can explore this historic city. >> I've added this text in just so that Yani can see where the text finally starts running under the picture. Ideally, it would be much better to fill a good amount of the white space between this text and the bottom of the pictures - I guess leave a bottom margin around the pic that's similar to the side-margin. :-) <<

Include:
---
Days 1-3
3 nights at Ivory Lodge (full board & activities) | Hwange National Park, Zimbabwe
You'll be collected from Victoria Falls Airport and transferred by road to
Ivory Lodge
. This transfer is on tarred road in an air-conditioned mini-bus travelling through villages and picturesque countryside. At around mid-afternoon you'll arrive at Ivory Lodge. You'll have enough time to get settled into your chalet, grab a bite to eat and then head out on your first activity, probably a 4WD game drive to explore the area. This is your base for the next few nights.
---
Days 4-6
3 nights at Amalinda (full board & activities) | Matobo Hills National Park, Zimbabwe
Next you'll be driven south, along the tarred road, beyond Bulawayo to the palpably historic Matobo Hills National Park. After a transfer of around 4 hours you'll arrive at
Camp Amalinda
. You'll immediately notice the stark contrast between the flatness of eastern Hwange and the rugged outcrops of the Matobo Hills. The area covered by this camp goes some way to match the massive scale of the landscape: it stretches from a large swimming pool right up the side of an ancient granite kopje. You'll be welcomed by friendly staff and amazed by the fantastic views.
---
Days 7-8
2 nights at Bulawayo Club (bed & breakfast) | Bulawayo, Zimbabwe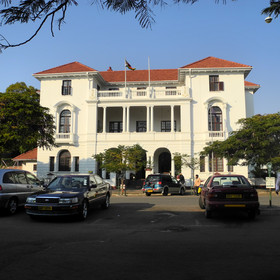 After your time at Camp Amalinda you'll head back to Bulawayo where your final two nights are based at the colonial
Bulawayo Club
. It's a great base for exploring the modern history of this fascinating city. Ask us about spending some time with Paul Hubbard, a local guide and historian whose incredible knowledge and passion for the area will bring the entire city to life.
---
Day 9
Leaving from the Bulawayo Club, you'll be free to connect with whatever onward arrangements you have organised - after a superb trip through western Zimbabwe. Ask us when you book if you would like us to take care of the onward arrangements for you.
---
See Prices & details for the precise dates/prices for this trip - and all the fine print.