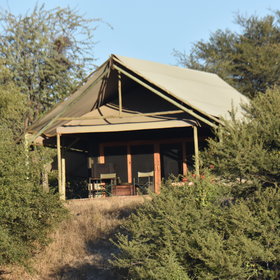 Meno A Kwena is a great old style safari camp...
Community projects
David Dugmore believes that the future of the wildlife here is in the hands of the people of the Boteti. As part of his aim for continued and sustained wildlife conservation in the area, he works closely with the local communities in order to involve and educate them on these ideals.
Meno a Kwena Tented Camp is situated on tribal land and a bed levy from each guest is paid to the community. All of the staff at Meno A Kwena come from the surrounding villages; local artisans and builders are used wherever possible, and raw materials are similarly sourced locally. David has set up a workshop by the main gate to allow local craftsman to create and sell curios and furniture to guests.
The camp has an open-door policy, to encourage the locals to visit the camp and experience what entices tourism to this area, and the importance of their support. Occasionally, the headman and his wife will visit for high tea which is considered a real event!
Meno A Kwena also assists the local primary school, where many of the staff's children attend, with fundraising, school and art materials. The school now has a computer which the children use for research and to watch educational DVDs. If you plan to visit Meno A Kwena and wish to donate supplies such as stationary or a wildlife documentary on DVD, then please contact us and we will help you find out in advance what is needed.
The camp holds educational workshops for the school. The children visit the camp and spend the day in small groups, each with a guide, learning about the flora, fauna and conservation in the area.
The camp also assists the school dance group with transportation to and from nearby venues, and they perform for visitors who then contribute funds to the performances. Guests at Meno A Kwena can request a performance by the dance group – but this needs doing in advance of your arrival.
Community projects | Small Meru tent | Water for life project |