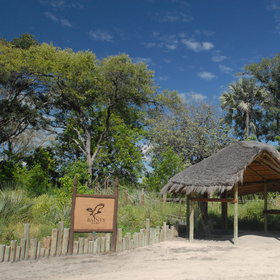 Baines Camp...
Safari Chalet
There are 3 twin rooms and 2 doubles Baines' Camp; all are connected by raised wooden walkways and constructed in a similar fashion – using an innovative mix of thatch roofs supported by walls made of solid aluminium cans, wire mesh and elephant dung. These are much nicer than they sound.

Inside they are stylishly decorated in white-washed colours, and comprise a main bedroom area with large French doors opening to your own private raised wooden deck. There is an in-built sofa in the corner of the room towards the deck, and walls are decorated pieces of individual artwork. The four-poster beds are on wheels so that if you wish, they may be pushed out onto your deck at night for a sleep under the stars… They are surrounded by mosquito netting so there is no need to worry about the insects!

Behind the beds are large wardrobe cupboards, and also a mini-fridge which can be stocked with your chosen beverages. Each room is also equipped with a hairdryer and ceiling fan, as well as a torch, intercom system and mosquito repellant! An easel is also provided in each room so that guests can paint if they wish to.

The en-suite bathrooms are connected to the main bedroom areas by an enclosed walkway/corridor. They have flushing loos, shower cubicles and double-sinks with mirrors over, along with a full length mirror. Hot and cold water is on tap, and various toiletries including shampoo, conditioner and shower gel are also provided.

Visiting these rooms at Baines' Camp we really liked them; they are unusual for camp rooms in Botswana; they felt airy and cool, and had lovely views of the bush around.