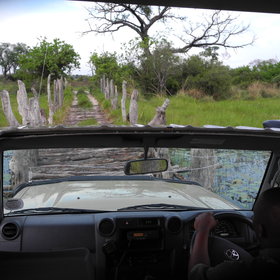 Mapula is approached by a traditional log-piled bridge.
Thatched chalet
Mapula Lodge's nine roomy stone and thatch chalets are well-spaced and very private. They have been built on raised platforms amongst some lovely old trees in harmony with their surroundings. The floors are constructed from lovely old wooden beams, and these extend to each chalet's own private viewing deck. The rooms have very large almost floor to ceiling meshed windows, which allow for great views over the surrounding landscapes. You'll see all manner of birds flutter past and the distinctive cry of the fish eagle is often heard from the direction of the lagoon.

Up a few steps, and entering through the solid wooden front door, to one side you will find your comfortable beds (which can be made up double or twin) with their rustic headboards crafted from gnarled old wooden logs. The beds have box-shaped mosquito nets which are lowered in the evenings to protect you from any creepy-crawlies. Either side of the beds are bedside cabinets with good reading lights - the switches are accessible from inside your mosquito net which is handy!

In the centre of the room is the living area. Here you'll find a small wicker sofa, scattered with cushions. There is a footstool and coffee table, also crafted from an old wooden log. Here you will find the door to your balcony which is a great place to spend the afternoon relaxing as it is well-shaded by the ancient trees, and the bird-life right on your doorstep is fantastic.
The rooms do have fans although they only work when the generator is on from about 7 to 10.30 am in the morning and between 6 and 8.30pm in the evening.