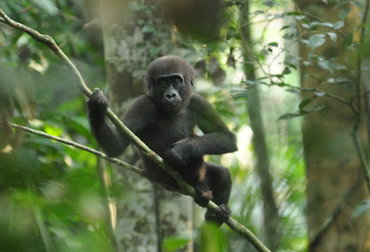 Odzala Fly-in Safari: In full
This unusual and offbeat safari to the Republic of Congo is brand new to us for 2014; featuring a night in the pleasant city of Brazzaville, before flying into the into the remote Odzala-Kokoua National Park for a set six night trip split between Ngaga Camp and Lango Camp - the highlight of this area is the chance to visit two habituated groups of Western lowland gorillas.
Include:
---
Day 1
1 night at Mikhael's Hotel (bed & breakfast) | Brazzaville, Congo
After making your own way to Brazzaville, check into the very comfortable Mikhael's Hotel. Depending on what time you arrive, spend time exploring Brazzaville, either on foot or in a local taxi arranged by the hotel. This is a charming city with a number of interesting things to see including markets, a stunning church and the mighty Congo River.
---
Days 2-4
3 nights at Ngaga Camp (full board & activities) | Odzala-Kokoua National Park, Congo
In the morning, you will transfer back to Brazzaville Airport to catch your two and a half hour light flight into Odzala-Kokoua National Park. On arrival you will be met by your guide from Ngaga Camp, who will drive you for three hours through the park back to camp. Whilst here your activities take place in the surrounding rainforest just outside of the park. Enjoy forest walks, a village visit but most importantly two treks to see the endangered Western lowland gorilla.
---
Days 5-7
3 nights at Lango Camp (full board & activities) | Odzala-Kokoua National Park, Congo
Drive back into the park, to reach your second stop in Odzala – Lango Camp where you spend your last three nights. The drive is likely to take upwards of three hours, as it is taken as a leisurely game drive. Look out for forest buffalo, forest elephant, birds, sitatunga and other mammals found in the area. From Lango the main activity is the bai walk, a river trip and game drives. None produce lots of big game opportunities but are a nice way to experience this unusual environment.
---
Day 8
Depart from Odzala early in the morning - arriving into Brazzaville mid morning and with plenty of time to make your own onward connections.
---
See Prices & details for the precise dates/prices for this trip - and all the fine print.