Useful links featuring Sirikoi

Download a PDF...
To read what we say in our brochure, click on the link to download the brochure section including Sirikoi. To save a copy onto your computer, right-click on the link and select 'Save Target as...'.
Useful links...
We want you to understand more about Sirikoi. We're not shy to direct you to their own website as we're confident that a trip there with us will cost you the same or less than booking it any other way, even directly. So follow the links below for more information.
SIRIKOI website
For more pictures and information on this lodge, please click on this link to their own website.
Sirikoi is often combined with:
Sort by:
Name


|
% of trips


|
Traveller's rating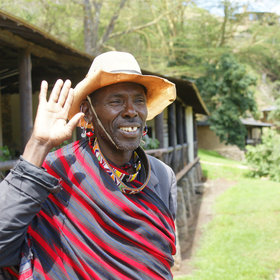 The Emakoko
|
67%
|


A new, upmarket, owner-managed lodge, opened at the beginning of 2012, The Emakoko straddles the southern boundary of Nairobi National Park, marked by the gorge of the Mbagathi River in an area where three rivers converge. The lodge has the national park's much underrated ...
Read more about The Emakoko
Mikhael's Hotel
|
67%

Privately owned by the Khoury family who have been in Brazzaville for over 50 years, Mikhael's Hotel opened in August 2010 and is located in the heart of the city. The hotel is still run by its owners, who were originally in the construction industry, though it's very much ...
Read more about Mikhaels Hotel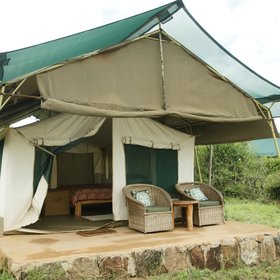 Laikipia Wilderness
|
33%

Laikipia Wilderness opened in 2012 on the Ol Doinyo Lemboro Ranch about 2 hours drive north of Nanyuki. The camp has five spacious tents, and is supported by a small team of excellent staff. It specialises in game walks as much as game drives and has two easily observed ...
Read more about Laikipia Wilderness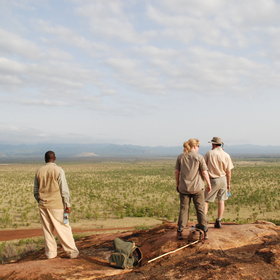 Elsas Kopje
|
33%

Named after Elsa, the lioness raised by George and Joy Adamson and made famous by the story of Born Free, Elsa's Kopje sits high on Mughwango Hill above George Adamson's original campsite. The camp is colonial in style, and has spectacular views over the plains of Meru National Park...
Read more about Elsa's Kopje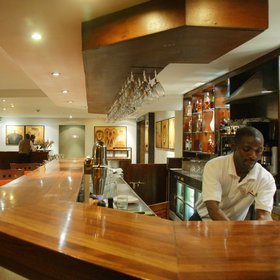 Ole-Sereni
|
33%
|


Opened in 2009, the Ole-Sereni is the closest Nairobi has to an airport hotel, though its brand-new neighbour, the Eka Hotel, seems likely to challenge it. The building, which formerly housed the US Embassy, borders the fence that runs along the north side of Nairobi National ...
Read more about Ole-Sereni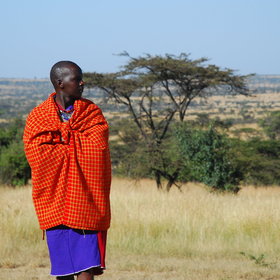 Naboisho Camp
|
33%
|

Appealing both to safari purists and those seeking a little luxury, Naboisho Camp is the most upmarket of the handful of new, small camps in the relatively little-visited Mara Naboisho Conservancy. Surrounded by untouched savanna and dense thicket, it is located in a game-rich ...
Read more about Naboisho Camp
Elephant Bedroom
|
33%
|

Elephant Bedroom is located deep in the heart of the Samburu National Reserve on a lovely stretch of the Ewaso Nyiro River. Having opened in 2008, this is a relatively new safari camp, offering luxurious tented accommodation in a shady grove of acacias and doum palms. The ...
Read more about Elephant Bedroom
Saruni Samburu
|
33%
|


Saruni Samburu is a luxury lodge that sits atop a vast red rock in the private Kalama Conservancy, north of the Samburu National Reserve. It's the sister lodge of co-owned Saruni Mara. In easy reach for game drives and with spectacular views overlooking this famous wildlife ...
Read more about Saruni Samburu
Mara Toto
|
33%
|

Having only opened in July 2013, Mara Toto is a relatively new bush camp located just inside the northern border of the Maasai Mara National Reserve boundary. A small camp, it is also has game driving rights both in the Maasai Mara National Reserve and in the Mara North ...
Read more about Mara Toto
Mara Plains Camp
|
33%
|

Nestled in the trees on the edge of the Ntiakatek stream in the 120km² (30,000 acre) private Olare-Motorogi Conservancy (previously known as Olare Orok), Mara Plains is a small, luxury tented camp which prides itself on offering a personal and high level service. Along ...
Read more about Mara Plains
Kicheche Bush Camp
|
33%
|

Located in the quiet Olare Motorogi Conservancy and with only six tents dotted through the bush, Kicheche Bush Camp is an intimate tented camp owned in partnership with photographer Paul Goldstein. As a result, there is a keen focus on wildlife viewing and photography here, ...
Read more about Kicheche Bush Camp
Lango Camp
|
33%

Nestled on the edge of a bai, with forest behind and open wetlands in front, Lango Camp is a luxurious permanent camp in Odzala National Park. It is visited as the second stop, in a set six-night itinerary, with three nights spent here after three at its sister camp Ngaga ...
Read more about Lango Camp
Ngaga Camp
|
33%
Ngaga Camp is the first stop on a set six-night trip into Odzala National Park and its surrounding areas where people come to experience a unique rainforest environment and see the very rare lowland gorillas. Based on the local architecture of the Baka people, the camp ...
Read more about Ngaga Camp