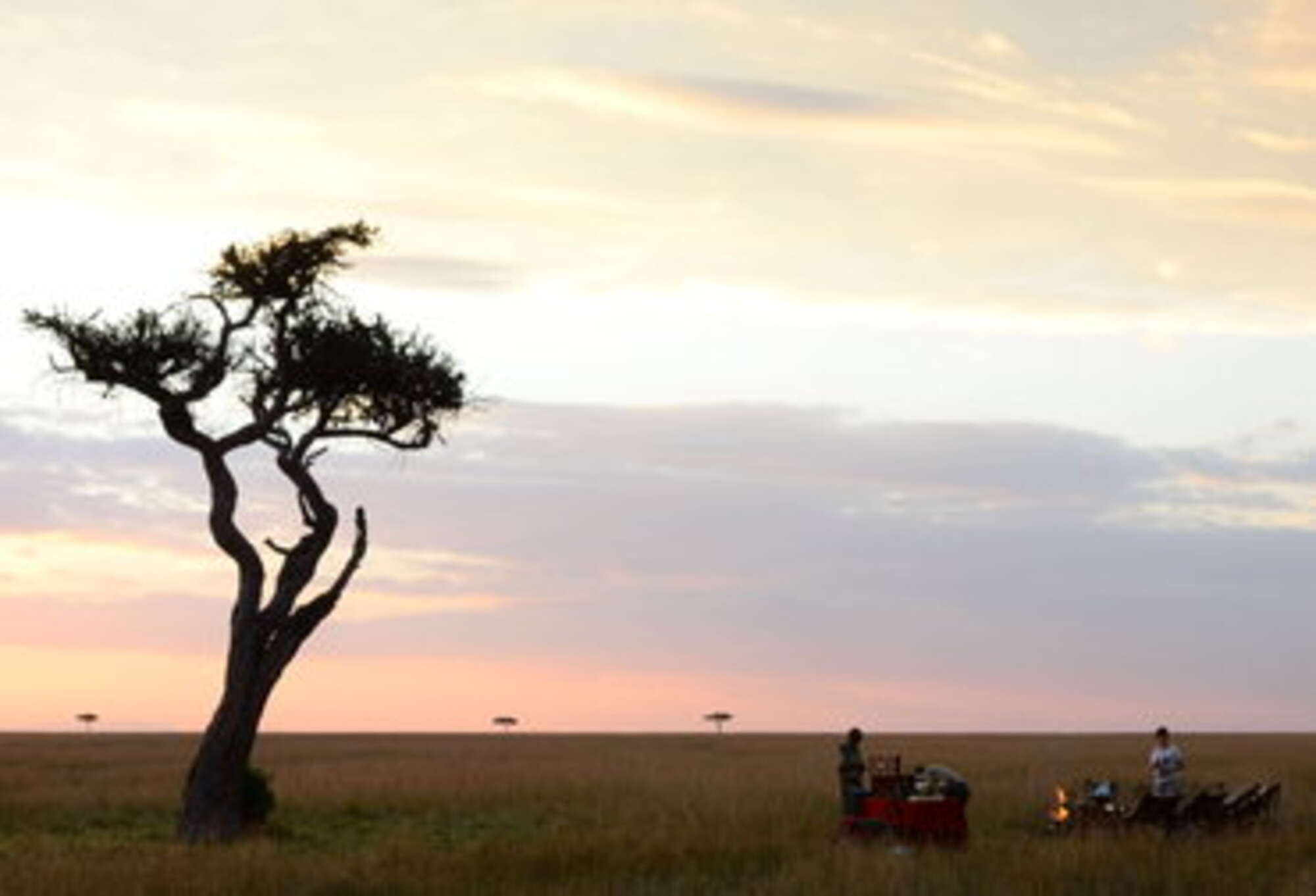 Sundowners are a daily part of the Elephant Pepper experience.
Black Kite Fly-in Safari
Kenya's remarkable diversity of ecosystems is one of its most outstanding features. This rewarding safari takes in three of the country's most iconic regions. After a day at the lovely Emakoko in Nairobi National Park, you'll spend three days exploring the little visited Meru National Park , east of Mount Kenya. Then you'll travel to southwest Kenya to spend three days in the fabled Maasai Mara ecosytem, on the trail of big cats and dozens of other species. And you'll finish the safari with three days in the shadow of Mount Kilimanjaro.

To experience the Maasai Mara's great migration, a good time to take this trip is around August and September, when the migratory wildebeest herds take over the plains.

After your safari, if you want to spend time relaxing on Kenya's coast, it's easy to add one of our beach add-on trips to the Indian Ocean beaches to your itinerary.
Includes:
Starts/ends:
Prices:
US$8,218 - US$9,444 per person sharing
Stays at:
1 night
The Emakoko
– Nairobi, Kenya
1 night
Elsas Kopje
– Meru National Park, Kenya
1 night
Elsas Kopje
– Meru National Park, Kenya
1 night
Elsas Kopje
– Meru National Park, Kenya
1 night
Elephant Pepper Camp
– Maasai Mara Conservancies, Kenya
1 night
Elephant Pepper Camp
– Maasai Mara Conservancies, Kenya
1 night
Elephant Pepper Camp
– Maasai Mara Conservancies, Kenya
1 night
Tortilis Camp
– Amboseli and the Chyulu Hills, Kenya
1 night
Tortilis Camp
– Amboseli and the Chyulu Hills, Kenya
1 night
Tortilis Camp
– Amboseli and the Chyulu Hills, Kenya
Reviews
Recently reviewed trips visiting some of these places include: