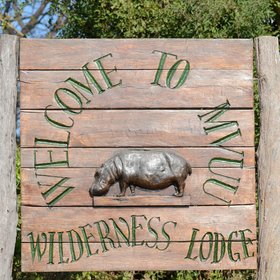 Mvuu means hippo in the local language and the lodge is aptly named.
Tented Room
The tented rooms at Mvuu Wilderness Lodge have recently been redesigned to be more spacious – and they're still constructed using solid poles for the structure, and canvas stretched on the outside of this.

Central to each room at Mvuu is an enormous double bed with soft cotton bedding and a batik bedspread, surrounded by a walk in mosquito net. Each room has plenty of canvas windows, allowing a cool breeze through the room even on the hottest of days.

There is a private seating area outside each tented room at Mvuu Wilderness Lodge with two wicker chairs, a table and a "stand-alone" hammock for whiling away the afternoon. I discovered, to my delight, that if you sit still and quiet enough in the hammock, then the game comes very close – I had a beautiful female bushbuck (usually shy and elusive antelope) come up to within a few metres of me!

The tents at Mvuu lodge are widely spaced for privacy and have white calico curtains at each window – behind the bed is a Malawi teak desk with information about the camp and the surrounding area, and mosquito repellent and spray for the rooms (although I didn't find the mosquitoes to be a problem here). There is a small wardrobe fashioned from a mokoro canoe with shelves, and a hat-stand with clothes hangers. At the back of the room is the door through to the bathroom.

The bathrooms at Mvuu have been redesigned and are beautifully laid out with an enormous built in bath with a shower inside. The baths are made from moulded concrete with stones set into them, and a selection of toiletries is available for guests to use. On the right hand side of the bathroom is a washstand with two built in ceramic basins (the bowls are from the Dedza pottery) and mirrors above. Towels and flannels are provided.

There is a small table in the bathrooms with bathrobes and more mosquito repellent, and a flush loo in the corner of the bathrooms. A door leads out to a wooden walkway leading to a reed cubicle with an outdoor shower.