Livingstonia Beach
A two-hour drive from Lilongwe, the Livingstonia Beach Hotel (part of Le Meridien Group) has 32 colonial-style rooms set in tropical gardens, alongside a beautiful beach. The rooms are spacious with en-suite facilities and fans, although the décor is a bit dated. Meals are taken either in the formal dining room or outside on the terrace under the trees.
Continue reading our full report on Livingstonia Beach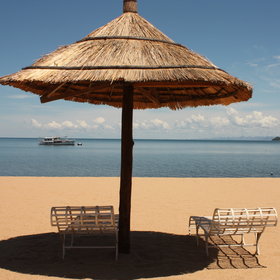 Relax on the shore of Lake Malawi with its beautiful sandy beaches...