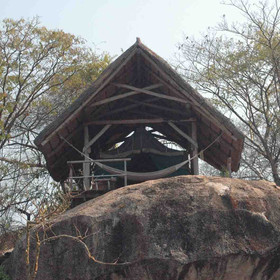 The tented rooms at Mumbo are set high on the rocks...
Tented Room
The rooms at Mumbo Island Lodge are all tents set on wooden decks under thatched roofs – and each tent is set on its own individual boulder!

The tents are en-suite and each is decked at the front with a hammock, a small table and a Lloyd Loom-style chair. Inside the tents, which are quite small, there are twin beds (one tent can be changed to have a double bed) with a bedside table with goblets, drinking water, a torch and a selection of toiletries including sunscreen, insect repellent and moisturizer.

In the corner of each tent at Mumbo Island Lodge there is another Lloyd Loom chair, and a small low carved table on which there is information about the camp, a mirror, an ashtray, matches and filtered water in a flask. All the furniture in the rooms is wooden and carved, and the floor is covered in soft woven rugs. The bed has white cotton sheets, a duvet and pillows.

The private bathrooms at Mumbo Island Lodge are separate from the tents, and reached by a long wooden walkway. The toilet stands in its own enclosed, thatched room and consists of a wooden throne with a lid, below which is a long-drop toilet. Beside this is a basket of wood-shavings, to drop down the toilet after its use, as an aid to the composting process.

The shower has its own separate reed-walled cubicle, with a great view over the lake. This is a bucket shower, and so about twenty minutes notice will need to be given before showering, to give the staff time to heat the water and bring it up to you. The bathrooms are lit by spirit lamps at night.