The Expert Team
We believe that to get the best from a trip to Africa, you need impartial advice from people who know Africa well, have actually been to the places where you are thinking of travelling and can advise you from first-hand experience – like our team!
To reduce spam, we haven't written all of our email addresses below. But all follow the form:
first-name
dot
second-name
@
expertafrica
dot
com
( Please always copy your email to
info
@ ... )
---
Freddie Sutton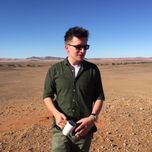 Destination manager:
Zambia
Zimbabwe

Specialist countries:
Congo
Malawi
Mozambique
Seychelles
Tanzania
Zambia
Zimbabwe
I've always had a passion for two things, wildlife and travel, with Africa being the perfect continent to bring these interests together. As soon as I left school I headed to Tanzania where I spent three months exploring the northern parks in the country, and completing a climb of Kilimanjaro.

Going on to study at the University of Bristol, I took every opportunity to visit some of the best wildlife areas in the world, including studying tropical bats in Costa Rica, and gaining my FGASA (Field Guide Association of Southern Africa) safari guide qualification in Kruger National Park.

After finishing my studies I undertook an internship with the University of York's Environment Department, assisting with research into forest conservation methods. For several months I lived and worked in the Udzungwa Mountains in southern Tanzania, surveying monkeys and trees, and investigating how tourism can be integrated with conservation projects.

After returning to the UK I worked briefly as an ecological consultant, but quickly realised that the wildlife of the Essex countryside couldn't match the draw of African megafauna, and I joined Expert Africa soon after. I currently work as the destination manager for Zambia and Zimbabwe, and I'm delighted to see a surge in popularity for the latter since Robert Mugabe left power, with some fantastic owner-run camps getting a well deserved break and increase in bookings.
Freddie's most recent Africa trips
Sep-2018
12 nights
"My second trip to Namibia focussed on exploring the northern areas of the country, and as the sign at the bottom of the astonishingly steep track to Ugab Terrace Lodge stated, ' difficult roads often lead to beautiful places'. This trip covered thousands of kilometres across desert roads, and the vistas along the way and the views from the camps were some of the most stunning I've seen in Africa, and the desert adapted wildlife certainly peaked the interest if the zoologist in me."
May-2018
12 nights
"After having spent many years at Expert Africa visiting the continent on fly-in safaris, hopping between national parks and focussing purely on wildlife based activities, I was very excited to head to a country where I would be driving myself around with the landscape being a major draw. I've never been anywhere quite like Namibia, and it was incredible to have the independence to drive myself through the desert, pausing where I liked and truly discovering the country. The hot air ballooning and dunes at Sossusvlei stand out in particular."
Jul-2017
17 nights
"My partner had never left Europe before, so this trip provided a perfect opportunity for her to see Africa for the first time. Although the Selous Game Reserve and Ruaha National Park aren't nearly as famous as Tanzania's northern safari areas, they still had more than enough wildlife to hook my partner, and the remote areas and variety of activities on offer were a huge draw for me as a more experienced safari goer, with a stay on the secluded Mafia Island at the end providing some welcome R&R."
Freddie's guidebook work
Namibia - 6th edition
Bradt Travel Guides
Major contributor
2019
For the second guidebook that I worked on I headed out to Namibia with a colleague, driving ourselves around the coastal town of Swakopmund and and through the vast Namib Desert, checking up on past favourites and discovering new developments.
Zambia - 6th edition
Bradt Travel Guides
Major contributor
2016
I visited Zambia on three separate occasions across 2014 and 2015 in order to research and update the 6th edition. I updated the entirety of the South Luangwa, Livingstone and Kafue chapters, and assiste with the Lusaka and northern Zambia sections.
Freddie's previous Africa research
Latest reviews from Freddie's travellers
"This trip far exceeded anything I could have imagined "

Zambia
7 Jan to 23 Jan 2019
"Working with the Expert Africa team...was great fun and very rewarding."

Malawi
23 Oct to 30 Nov 2018
"The trip was extremely well organised and hassle free."

Zimbabwe
9 Dec to 28 Dec 2018
"The camps we visited were great"

Malawi
22 Aug to 26 Aug 2018