The Expert Team
We believe that to get the best from a trip to Africa, you need impartial advice from people who know Africa well, have actually been to the places where you are thinking of travelling and can advise you from first-hand experience – like our team!
To reduce spam, we haven't written all of our email addresses below. But all follow the form:
first-name
dot
second-name
@
expertafrica
dot
com
( Please always copy your email to
info
@ ... )
---
Josh Flatman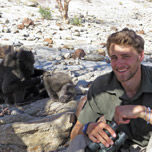 Specialist countries:
Namibia
Josh first visited South Africa with Exeter University while studying for a Conservation Biology and Ecology Degree. After completing a further masters degree in biosciences and working on wildlife conservation and research projects in the UK, Norway and Cyprus, Josh returned to Africa to volunteer in Namibia.

Josh initially spent a month volunteering for a small wildlife research and rehabilitation centre in central Namibia, working particularly closely with ground pangolins and endangered Cape vultures. From this Josh went to work on a research project studying the social and population dynamics of chacma baboons, involving full-day follows of habituated baboon troops. Completing his time in Namibia, Josh embarked on self-drive camping trip around the central and the North of the country, visiting the highlights of this region.

Returning to the UK Josh continued his job working in wildlife disease research before moving to London to work for a market research company. However, the passion for Africa and its wildlife has led Josh to a career with Expert Africa, he joined in 2016 and is excited to be training as a Namibia specialist.