The Expert Team
We believe that to get the best from a trip to Africa, you need impartial advice from people who know Africa well, have actually been to the places where you are thinking of travelling and can advise you from first-hand experience – like our team!
To reduce spam, we haven't written all of our email addresses below. But all follow the form:
first-name
dot
second-name
@
expertafrica
dot
com
( Please always copy your email to
info
@ ... )
---
Olivia Barclay-Hudson
Africa Specialist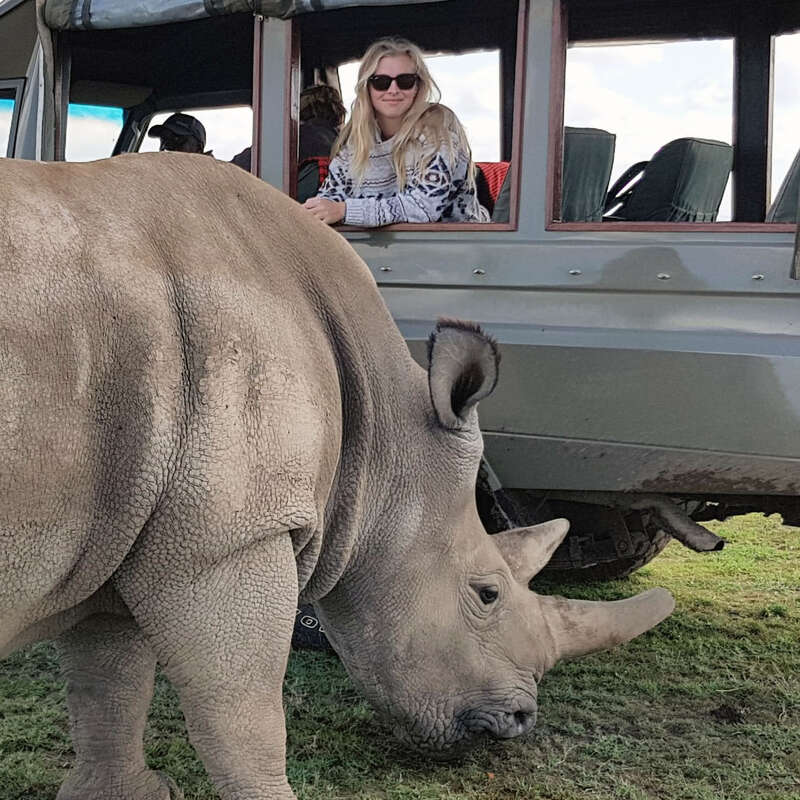 Destination manager:
Kenya

Specialist countries:
Kenya
Tanzania
Zanzibar
Travel has always been my passion – I peaked at four continents in one year! – and my first taste of Africa was on a family holiday to Kenya in 2006; I vowed to come back and explore the continent more upon completing my studies. An Environmental Science degree at the University of Leeds, and a dissertation focussed on climate change and crop production in Ghana, thus enabled me to take some time to develop my interests in wildlife conservation, sustainable tourism and travel.

Over the course of two years since graduating, between working in the Alps for 10 months and travelling through Asia, Australasia and Europe, I undertook volunteer conservation projects across the southern hemisphere. They ranged from restoring natural plant biodiversity in Australia's New South Wales, to assisting with the care and rehab of orangutans, macaques, gibbons and sun bears on Malaysian Borneo.

The clear highlights however were the projects in southern Africa. Spending six weeks in Damaraland, Namibia, was an unforgettable experience: working on the ground to reduce conflict between the desert elephant herds and the farmers whilst cooking over a fire and sleeping out under the stars every night. A stint in South Africa followed, exploring Cape Town and the Eastern Cape whilst volunteering on Kariega Game Reserve as part of their conservation programme.

A career in the City just could not compare; I joined Expert Africa in 2016 and have loved exploring East Africa properly. I have travelled throughout Tanzania, including the iconic Northern Circuit, the far-flung western reaches, as well as the southern parks and Zanzibar. Having managed the Northern Tanzania programme, I have now moved on to manage our rapidly-expanding Kenya portfolio, another area I know and love.

Olivia's most recent Africa trips
Nov-2019
14 nights
"I was so looking forward to returning to southern Tanzania and it didn't disappoint. The Selous had experienced huge amounts of rainfall so getting around was tricky, but I was rewarded with three separate sightings of three different wild dog packs! This species has nearly always eluded me, so this was hugely exciting. Ruaha is one of my favourite parks in Tanzania and I loved seeing some of the camps that our travellers love - Ikuka and Kichaka Expeditions. On this trip I also visited the newly rebuilt Namiri Plains, in the Serengeti, as well as the magical and otherworldly Rubondo Island. This is one of the most unique places I've been in East Africa and a real highlight."
Oct-2019
13 nights
"A return to Kenya provided the opportunity to visit somewhere new to me - Amboseli National Park. It was very wet during our time there but I was still amazed by the number of elephants in the park and we were lucky with a few glimpses of Kilimanjaro's heavily snow-capped peak too! I also returned to the Maasai Mara again to see some more camps, both in the conservancies and the very south of the main reserve (beautifully quiet down there), before heading to explore the coastal regions of Lamu, Mombasa and Diani Beach. I absolutely loved Lamu's laidback feel - for sure my favourite part of the Kenyan coast."
Nov-2018
13 nights
"This trip to Kenya was to venture further north - up to the Samburu region, making our way back down south to Nairobi via Laikipia. I loved the hot, dry and harsh Samburu lands, with their pockets of abundant wildlife when near to water. It was fantastic getting to know the culture of the local people, as well as having the chance to see some rather large orphans up close and personal from the Reteti Elephant Sanctuary! The contrast of western Laikipia was obvious, both in terms of climate, landscape and wildlife too. The array of activities here made for a really fun trip - it's not just about game drives, but walking, night drives, camel and horse riding, learning about endangered species and so much more. "
Olivia's previous Africa research
Latest reviews from Olivia's travellers
"One of our best holidays ever...Expert Africa have come up trumps again."

Kenya
11 Feb to 5 Mar 2020
"The whole trip was very enjoyable [...] It met all our hopes and expectations"

Kenya
21 Feb to 29 Feb 2020
"Olivia was excellent... one of the most helpful and efficient team members"

Tanzania
15 Feb to 25 Feb 2020
"completely blown away by the magnificence of Tanzania"

Tanzania
29 Jan to 6 Feb 2020