The Expert Team
We believe that to get the best from a trip to Africa, you need impartial advice from people who know Africa well, have actually been to the places where you are thinking of travelling and can advise you from first-hand experience – like our team!
To reduce spam, we haven't written all of our email addresses below. But all follow the form:
first-name
dot
second-name
@
expertafrica
dot
com
( Please always copy your email to
info
@ ... )
---
Paul Tyler
Africa Specialist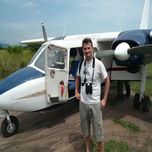 Joined: 25 Jul 2019
Specialist countries:
Botswana
I grew up in Pretoria and from a young age was always very interested in wildlife, especially birds. Family holidays usually involved trips to the Kruger National Park and visiting relations in Cape Town.

After receiving a degree in tourism management, I spent two years guiding in the Greater Kruger National Park. While working here I gained excellent knowledge of the wildlife, lodges and reserves of this magnificent safari area.

In mid-2005 I fulfilled a life-long goal to work and travel in the UK. Initially I found myself working in the payroll department at a major London hospital, but after 14 months decided to pursue a career in travel and I joined a luxury tour operator based in London. Nearly three years later an opportunity arose to join a company specialising in Africa, where I stayed for almost nine years before joining Expert Africa in July 2019.

During my career in travel I have travelled extensively through Southern and East Africa. Trips have taken me to Botswana, Zambia, South Africa, Kenya and Tanzania. My favourite safari destination is the Linyanti in Botswana, followed closely by the Lower Zambezi in Zambia.
Paul's most recent Africa trips
Nov-2019
13 nights
"After having not visited for a number of years it was great to get back to Botswana. Some of the camps I had been to before, others although in areas I know well I hadn't yet visited. This trip focussed on the Kwando-Linyanti and Okavango. The landscapes were varied and the wildlife viewing was magnificent. Highlights included numerous sightings of wild-dog, aardwolf, serval, close encounters with elephants and a day-time sighting of an African wildcat. We also identified over 200 species of birds. "