The Expert Team
We believe that to get the best from a trip to Africa, you need impartial advice from people who know Africa well, have actually been to the places where you are thinking of travelling and can advise you from first-hand experience – like our team!
To reduce spam, we haven't written all of our email addresses below. But all follow the form:
first-name
dot
second-name
@
expertafrica
dot
com
( Please always copy your email to
info
@ ... )
---
Richard Ball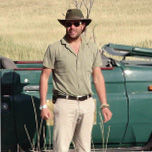 Destination manager:
Botswana

Specialist countries:
Botswana
Richard grew up in a family who loved wildlife, which led him to travel in search of some of the world's best wildlife. He fell in love with Africa at an early age, as his family usually spent a month each year driving themselves around Southern Africa.

After a degree in zoology, and work as an ecologist in the UK, Richard left for Mozambique. There he had some amazing encounters with marine wildlife whilst completing courses to become a dive-master and, subsequently, a scuba-diving instructor. Meanwhile, Richard had always dreamed of spending more time in the bush as a guide. When the opportunity came to work at Jack's Camp, in Botswana's Makgadikgadi Pans, he jumped at it.

Jack's Camp usually aims to employ zoologists as guides, and eighteen months guiding here gave him an intimate knowledge of these pans. He also spent his time off from work exploring the rest of Botswana and Southern Africa. Often travel with fellow guides, he'd use these trips to expanded his knowledge of the region, its people and its ecosystems. He shared some of this and documented his sightings and experiences through photography – another passion of his.

Returning to the UK in late 2013, Richard starting working for a well-known luxury travel company in London, where he created high-end trips to Africa and around the world. Moving to Expert Africa in 2016 has allowed Richard to focus more on the continent he most loves, Africa and on his favourite destination: Botswana.

Richard continues to travel to Africa for both work and pleasure – often visiting new areas, even if somehow he often ends up camping with friends and family the wilds of Botswana's Moremi Game Reserve and the Central Kalahari Game Reserve.

Richard's most recent Africa trips
Aug-2018
11 nights
"This two week trip focused on a number of the newly built, renovated and refurbish camp in both the Okavango and Kwando Linyanti in Northern Botswana. It was great to see how the standards are being upheld in the camps we visited and also get perspective of game viewing."
May-2017
7 nights
"This trip was a long research trip updating the 5th edition of the Bradt Botswana Safari Guide. We mainly focused on the Central Kalahari and Pan handle regions and covered a lot of ground. Many of these camps are usually reached by plane. However, due to the nature of the trip we drove to each camp, this in turn gave us a great understanding of how remote these were along with a great knowledge of the surrounding environments and wildlife."
Richard's guidebook work
Namibia - 6th edition
Bradt Travel Guides
Major contributor
2019
I have been to Namibia a number of times throughout my travels. When the opportunity came to update the 6th Edition of the Namibia Travel Guide it was a great chance to explore the Namib-Naukluft and Sossusvlei areas in more depth.
Botswana - 5th edition
Bradt Travel Guides
Major contributor
2018
Botswana has always been a passion of mine. Having spent 20 years travelling here with a stint guiding I really enjoyed updating this edition of the Botswana safari guide. I focused on the Kalahari Salt Pans, CKGR, the Panhandle and Okavango Delta
Richard's previous Africa research
Latest reviews from Richard's travellers
"A long awaited trip of a lifetime - and it was amazing. "

Botswana
8 Sep to 19 Sep 2019
"The trip was more exciting than we could have imagined"

Botswana
4 Aug to 13 Aug 2019
"Excellent! "

Botswana
19 Jun to 4 Jul 2019
"All the travel worked very smoothly. Thank you. "

Botswana
1 Jun to 17 Jun 2019