Useful links featuring Nkwichi Lodge
Useful links...
We want you to understand more about Nkwichi Lodge. We're not shy to direct you to their own website as we're confident that a trip there with us will cost you the same or less than booking it any other way, even directly. So follow the links below for more information.
Community Fund
Further details of the fund and some of its community projects
Nkwichi Lodge
This is Nkwichi's own site - great photos and a lot of detail on the lodge.
Nkwichi Lodge is often combined with:
Sort by:
Name


|
% of trips


|
Traveller's rating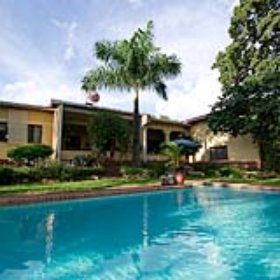 Heuglins Guest House
|
33%
|


Heuglins Guest House is situated in the northern suburbs of Lilongwe, Malawi's capital, a few minutes away from the city centre and approximately 35 minutes' drive from Lilongwe International Airport. It is named after the brightly coloured Heuglin's robin, often seen in ...
Read more about Heuglins Guest House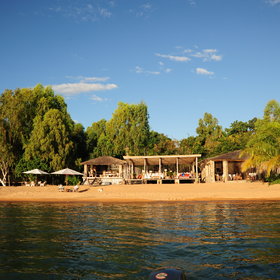 Kaya Mawa
|
33%
|

Beside the implausibly clear waters of Lake Malawi, Kaya Mawa's rooms are widely spread around a golden beach and the two headlands that bound it. It has been designed imaginatively, with many rooms fitted carefully into the rocky headlands and having direct access to the lake...
Read more about Kaya Mawa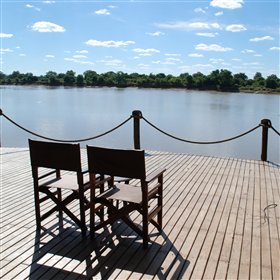 Nkwali
|
33%
|


Built on the banks of the Luangwa River, Nkwali Camp sits under the shade of tall mahogany, ebony and sausage trees. Owned and run by Robin Pope Safaris the camp is well situated a relatively short drive from Mfuwe Airport and overlooking South Luangwa National Park. Nkwali ...
Read more about Nkwali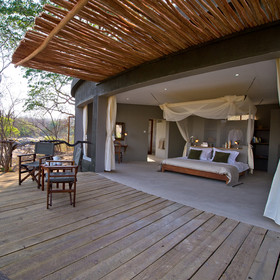 Mkulumadzi Lodge
|
17%
|


Overlooking tumbling rapids at the confluence of the Shire and Mkulumadzi (sometimes written 'Mukulumadzi' or even 'Mkurumadzi') rivers, is the smart and solidly built Mkulumadzi Lodge. Opened in 2011, it is owned by Robin Pope Safaris and incorporates some innovative 'eco' ideas...
Read more about Mkulumadzi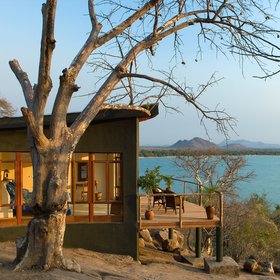 Pumulani
|
17%
|


Pumulani is a luxury beach lodge located high on a hill on the west side of Nankumba Peninsula, towards the southern end of Lake Malawi. It is within the Lake Malawi National Park so is a great spot for walking, snorkeling or simply relaxing. Pumulani's pedigree is excellent, ...
Read more about Pumulani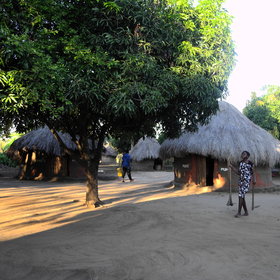 Kawaza Village
|
17%
|


Just outside the South Luangwa National Park, and a few miles from Mfuwe town, lies a normal, working, rural Zambian village that has decided to invite visitors to stay. There is nothing contrived or artificial about Kawaza Village, but it does offer you the rare opportunity ...
Read more about Kawaza Village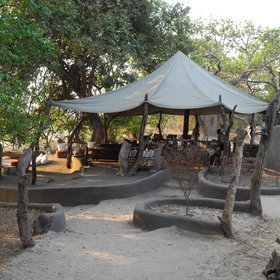 Tena Tena
|
17%
|

Run by Robin Pope Safaris, Tena Tena is in the remote Nsefu Sector, on the north side of South Luangwa National Park in an area rich with game. In August 2012 the camp was moved to a new location, about a kilometre upstream from its previous site, but it remains on the ...
Read more about Tena Tena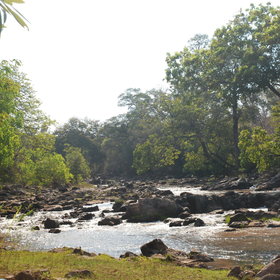 Mwaleshi Camp
|
17%
|

Located in the remote, walking-only area of the North Luangwa National Park, Mwaleshi Camp is a rustic little safari camp. It stands beside the crystal-clear Mwaleshi River, 10km from its confluence with the main Luangwa River, in a wilderness area renowned for its huge ...
Read more about Mwaleshi Camp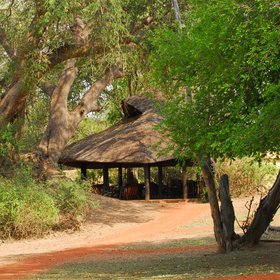 Nsefu
|
17%
|

Nsefu Camp, run by Robin Pope Safaris, is located on a wide bend of the Luangwa River in the remote and game-rich Nsefu sector of the South Luangwa National Park. An hour's drive from their base at Nkwali, and originally built in the 1950s, it is the South Luangwa's oldest ...
Read more about Nsefu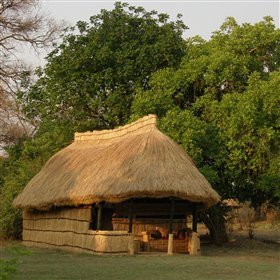 Tafika
|
17%
|

Home to John and Carol Coppinger, the founders of Remote Africa Safaris, Tafika is a small and apparently fairly rustic camp standing on the banks of the Luangwa River, on the north side of the beautiful Nsefu Sector of South Luangwa National Park. Tafika and its two satellite ...
Read more about Tafika
Mwamba Bushcamp
|
17%
|


Mwamba Bushcamp is set beneath the shade of tall ebony trees overlooking a waterhole in the usually dry bed of the seasonal Mwamba River. Owned by Derek and Jules Shenton, it is a very natural yet comfortable camp: small, intimate and very remote. Mwamba is the smaller ...
Read more about Mwamba Bushcamp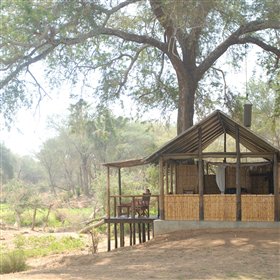 Old Mondoro Bushcamp
|
17%
|


Taking its name from the Shona word for 'lion', Old Mondoro is owned and operated by the Cumings family. It's a small, relatively simple bushcamp situated in a remote area of Zambia's Lower Zambezi National Park, and overlooks reed islands in the Zambezi River where elephants ...
Read more about Old Mondoro Bushcamp