Useful links featuring Guludo Beach Lodge

Download a PDF...
To read what we say in our brochure, click on the link to download the brochure section including Guludo Beach Lodge. To save a copy onto your computer, right-click on the link and select 'Save Target as...'.
Useful links...
We want you to understand more about Guludo Beach Lodge. We're not shy to direct you to their own website as we're confident that a trip there with us will cost you the same or less than booking it any other way, even directly. So follow the links below for more information.
Guludo's own website
Colourful, detailed and informative - the lodge's own website is well worth looking at for even more info.
Guludo Beach Lodge is often combined with:
Sort by:
Name


|
% of trips


|
Traveller's rating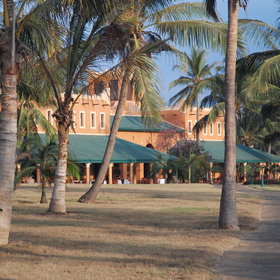 Pemba Beach Hotel
|
33%
|

On a quiet side of the town, a short drive from the airport, is the convenient and surprisingly good Pemba Beach Hotel . If you need to spend a night in Pemba than this is not only convenient, but it's also quite a nice hotel. It stands beside the ocean and has many rooms ...
Read more about Pemba Beach Hotel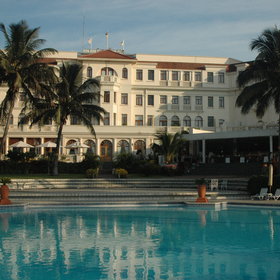 Polana Serena Hotel
|
33%
|


Most of our visitors who stop here come for just one night and stay at the best hotel in town: the five-star Polana Serena Hotel. It's reliably good and one of Africa's classic old colonial hotels. Marble floors and wrought-iron lifts lead to comfortable, well-appointed ...
Read more about Polana Serena Hotel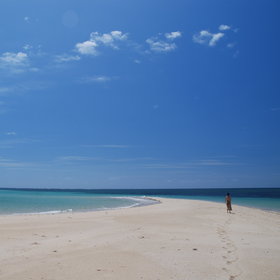 Ibo Island Lodge
|
33%
|


After 18 months of careful restoration work, three grand old mansions overlooking the ocean on Ibo Island have been restored to make the very lovely Ibo Island Lodge. The Expert Africa team visited Ibo Island Lodge several times during its construction phase, and had high hopes even then...
Read more about Ibo Island Lodge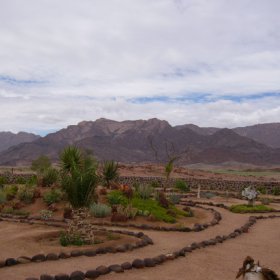 Brandberg White Lady Lodge
|
33%
|


Brandberg White Lady Lodge is situated on the northern side of the tallest mountain in Namibia – Brandberg. A stay here puts visitors within easy reach of the famous bushman white lady rock painting. Although none of our team has visited this lodge personally, here is what ...
Read more about Brandberg White Lady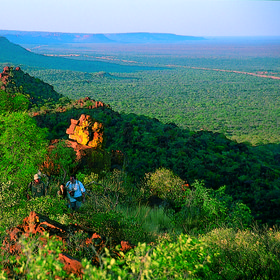 Waterberg Plateau Lodge
|
33%
|


Standing on the top of the Waterberg Plateau, Waterberg Plateau Lodge is a small satellite lodge linked closely with its sister lodge, Waterberg Wilderness Lodge. The final few kilometres of the drive to Waterberg Plateau Lodge is narrow and steep, but well paved – and ...
Read more about Waterberg Plateau Lodge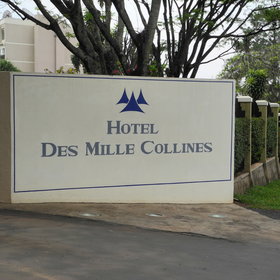 Hotel des Mille Collines
|
33%
|

Hotel des Mille Collines is set in Rwanda's capital city: Kigali. It is a four-star international hotel with 112 rooms, set in large gardens in downtown Kigali. The hotel gained much of its notoriety from its role within the feature film, Hotel Rwanda. As within the film, ...
Read more about Hotel des Mille Collines
Villa Violet
|
33%
|

Villa Violet is a small guesthouse run by helpful owners, Ben and Heidi Dassac. Situated in the suburb of Klein Windhoek, just a five-minute drive from the city's central business district, it's a convenient and comfortable base for an overnight stay in Windhoek at the ...
Read more about Villa Violet
Gorilla Mountain View Lodge
|
33%
|


The newest mid-range hotel in the Volcanoes National Park is the Gorilla Mountain View Lodge. The owners of the lodge are the former owners of the Mountain Gorilla's Nest. The Gorilla Mountain View Lodge has 20 individual cottages constructed out of brick and tile – another ...
Read more about Gorilla Mountain View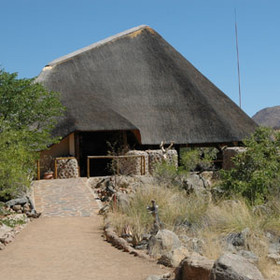 Huab Lodge
|
33%
|

Huab Lodge is situated on a private reserve overlooking the ephemeral Huab River; it was one of Namibia's first small, owner-run lodges. The lodge is run by its owners, Jan and Suzi van de Reep; both have been in Namibia's tourism industry for many years, and Jan is a top-notch ...
Read more about Huab Lodge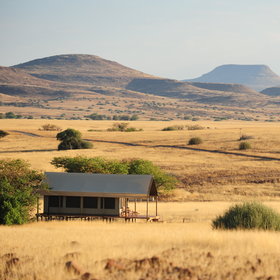 Desert Rhino Camp
|
33%
|


Remote, exclusive and specialised, Desert Rhino Camp takes a maximum of 16 guests – and for many years was known as 'Palmwag Rhino Camp'. The camp is a joint venture between Namibia's Save the Rhino Trust and Wilderness Safaris and has been running now for over 20 years...
Read more about Desert Rhino Camp
Okonjima Bush Camp
|
33%
|

The rolling hills and grassy plains of the Okonjima Nature Reserve, just south of Otjiwarongo, are home to Okonjima Bush Camp. The 220km2 resesrve is also the base for the AfriCat Foundation, a non-profit organisation set up to conserve and protect Namibia's threatened ...
Read more about Okonjima Bush Camp
Mundulea Reserve
|
33%
|

Set in some 120km² of pristine bushland within the Otavi Mountains, Mundulea Nature Reserve is the result of 12 years work by Bruno and Kate Nebe, who established the reserve in 2001. Since then, the four former cattle ranches that comprise Mundulea have been gradually ...
Read more about Mundulea Reserve