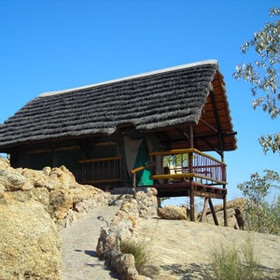 Pictures of a tented chalet at Erongo Wilderness Lodge
Tented chalet
Each of the Meru-style tents is built in between large granite boulders up on stilts to accommodate the gradient. The tents are shaded by a thatched roof – and are a good, fairly standard size for a walk-in tent. They have dark wood floors and windows and doors with two layers: each has a panel of insect-proof netting, which allows a free flow of air through the tent, and a separate panel of wind-proof canvas.

Each tent has an open rack for hanging clothes, plus a luggage rack, a slatted wooden table with two chairs, tea/coffee making facilities and a fridge/minibar. The low wooden beds have crisp white and russet linen with an artistic metal reading lamp above each bed. Tissues, candles and a torch are also provided and each tent has a power point suitable for plugs with three round pins (SA-style).

In front of each tent is a shady private deck with two safari chairs and a metal table.

At the rear of each tent, through a mesh door, is an en-suite thatched bathroom. This is innovative as it's partially built into the bare rock behind the tent – giving at a very natural feel. The walls are made of stone tiles topped with natural stone and there is a gap between this and the roof which allows great views from the shower!

Hot and cold water are on tap and you are provided with liquid soap, shampoo/conditioner/shower gel, body lotion, natural insect-repellant cream and towels.

Room number 6 is the honeymoon tent and is exactly the same as the standard tents except that it has a double bed in the tent. It also has a larger private deck with a plunge pool, chairs and an umbrella.