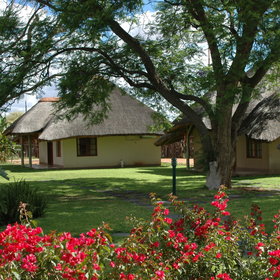 Frans Indongo Lodge is Namibia's Central Highlands.
Cheetah Cons. Fund
In 1990 Dr. Laurie Marker founded
The Cheetah Consevation Fund
(
CCF
) with the aim of becoming an internationally recognised centre of excellence in research and education on cheetahs and their ecosystems; working with all stakeholders to achieve best practice in the conservation and management of the world's cheetahs. They based themselves near Otjiwarongo in Namibia, since the largest and healthiest population of cheetahs in the world can be found here.
The CCF believes that understanding the cheetah's biology and ecology is essential to stabilise the existing population and manage it for the future. Their approach involves conducting detailed studies to monitor and understand the factors affecting cheetah survival; then developing conservation and management policies based on these findings, and communicating these findings within local, national and international communities.
Some of CCF's past approaches have included the Livestock Guarding Dog Programme - where they bred and placed over 200 guard dogs with commercial farmers in Namibia to help them protect their herds from the cheetahs. This has helped eliminate the need for ranchers to kill cheetah and has proved very successful. They have also developed, tested and promoted alternative land-management practices such as eco-tourism. They distribute CCF education resources and lend support and training to those in countries which still have an active cheetah population.
On 22nd July 2000 the President of the Republic of Namibia dedicated the new Haas Family Cheetah Research Centre and the Carl Cathryn Hilker Education centre, which was a great moment for the CCF, and helped mark their 10th anniversary of successful and innovative ways of managing cheetahs around the world. The research centre houses a veterinary clinic, laboratory and offices; while the Visitor's Centre has a large meeting room, café, kitchen and gift shop.
Their dedication has helped to maintain cheetah populations in a sustainable way which works in tandem with human activities. This ethos is reflected in their vision - "We see a world in which cheetahs live and flourish in co-existence with people and the environment". (
Read more about the Cheetah Conservation Fund…
)
You can visit the CCF on day trips from nearby Frans Indongo Lodge.
In 2009 Expert Africa sponsored "The Really Wild Picture Show 2008" (run by Friends of Conservation), which raised money for The Cheetah Conservation Fund. This event helped them to gain a greater awareness of their cause.