Useful links featuring Villa Mushara

Download a PDF...
To read what we say in our brochure, click on the link to download the brochure section including Villa Mushara. To save a copy onto your computer, right-click on the link and select 'Save Target as...'.
Useful links...
We want you to understand more about Villa Mushara. We're not shy to direct you to their own website as we're confident that a trip there with us will cost you the same or less than booking it any other way, even directly. So follow the links below for more information.
Villa Mushara's website
Find out more info about Villa Mushara on their website.
Villa Mushara is often combined with:
Sort by:
Name


|
% of trips


|
Traveller's rating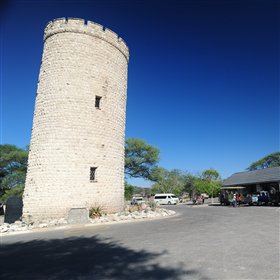 Okaukuejo Camp
|
100%
|

Okaukuejo Camp (formerly known as Okakwiju), meaning a woman who bore a child each year, stands at the western end of the famous Etosha Pan, about a half-hour drive from the Andersson Gate, the southern entrance into Etosha National Park. Although a larger camp than most ...
Read more about Okaukuejo Camp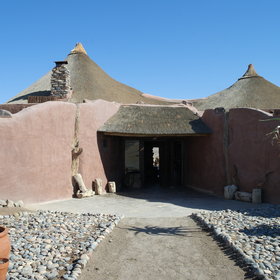 Kulala Desert Lodge
|
100%
|


Situated on the 210km2 private Kulala Wilderness Reserve south of Sesriem, Kulala Desert Lodge offers a close and spectacular view over the Namib Sand Sea to the west, and the Namib-Naukluft Mountains to the east. Originally opened in 1996, the lodge was built to make the ...
Read more about Kulala Desert Lodge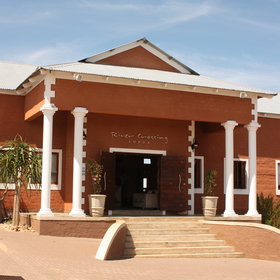 River Crossing
|
50%
|


Just 3km from the centre of Windhoek, towards the airport, River Crossing is set in a 6,500 hectare game reserve. Although it is close to Windhoek, it has a quiet rural setting and feels more like a safari lodge than a hotel. The lodge is built on a hill offering views ...
Read more about River Crossing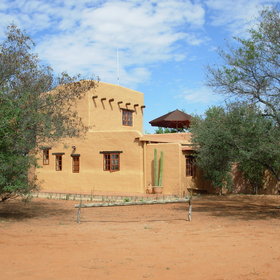 Eningu Clayhouse
|
50%
|


Eningu Clayhouse Lodge stands in the Kalahari amidst bush savannah, a little over an hour's drive south-east of Windhoek's main international airport. This 65 hecatre farm is owner-run by Bettina Spoerndli, and is quite a distinctive lodge – as it's all built from handmade ...
Read more about Eningu Clayhouse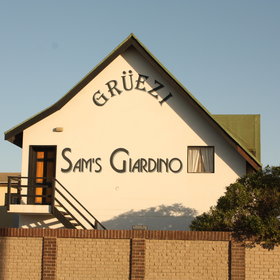 Sam's Giardino
|
50%
|


The comfortable Sam's Giardino is set in an attractive garden, a few minutes' walk from the centre of Swakopmund. Run by its enthusiastic Swiss owner, Sam Eggar, with the aid of his exuberant dog, Beethoven, it is welcoming, homely and slightly offbeat. Many of Sam's helpful ...
Read more about Sam's Giardino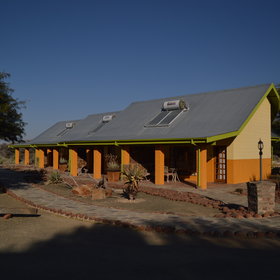 Bullsport Guest Farm
|
50%
|


Bullsport Guest Farm (also known as BuellsPort or BüllsPort) stands approximately 250km southwest of Windhoek, and about 50km south of Solitaire, in its own section of the majestic Naukluft Mountains. Offering hiking and horseriding, Bullsport is one of Namibia's oldest farms...
Read more about Bullsport Guest Farm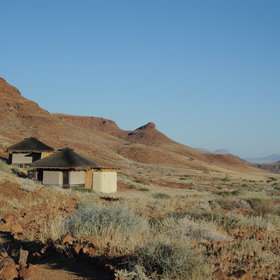 Damaraland Camp
|
50%
|

Nestled in the Huab River valley, and surrounded by low hills, Damaraland Camp was one of the earliest camps in this area, having first opened around 1996. Although it has undergone a number of renovations since then, with the chalets almost doubled in size, it retains ...
Read more about Damaraland Camp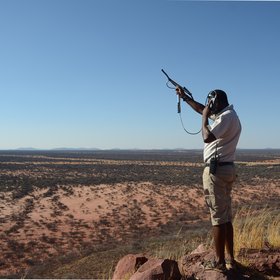 Okonjima Plains Camp
|
50%
|


Set amidst plains and rolling hills in a 220km2 private reserve just south of Otjiwarongo, Okonjima Plains Camp opened in 2014. It is the most affordable of the places to stay on the Okonjima Nature Reserve, whose raison d'etre is the AfriCat Foundation, set up to conserve ...
Read more about Okonjima Plains Camp
Okonjima Bush Camp
|
50%
|

The rolling hills and grassy plains of the Okonjima Nature Reserve, just south of Otjiwarongo, are home to Okonjima Bush Camp. The 220km2 reserve is also the base for the AfriCat Foundation, a non-profit organisation set up to conserve and protect Namibia's threatened cheetah, ...
Read more about Okonjima Bush Camp